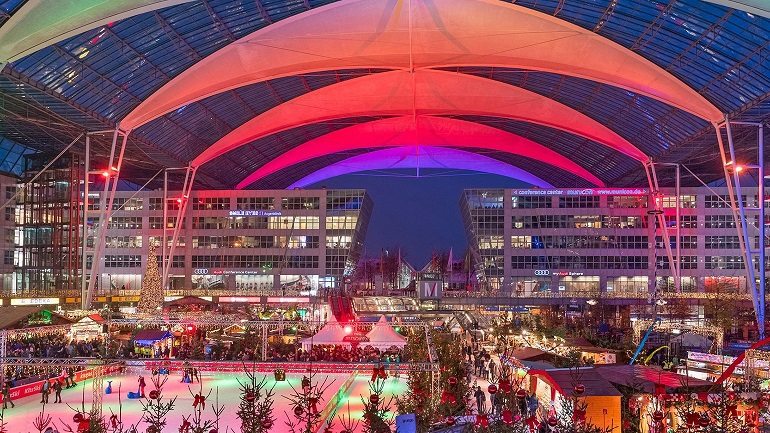 Munich Airport to host World Cup screenings, Bike Show and annual winter market
Again in 2018, Munich Airport is hosting a series of exciting events on the airport campus for travelers, employees and residents of the surrounding region. Summary of the event calendar:
Innovation & Style on April 20/21 will feature presentations by start-ups, small and mid-sized companies, and major corporations from a wide range of industries. They will display their latest prototypes and products to passengers and visitors from all over the world in the Munich Airport Center (MAC).
A big party at the airport with live performances by top bands: Family & Music Days. The festival will take place at the visitors park on June 9th and 10th.
From June 14th to July 15th, the Munich Airport Center will be "soccer central". Every match of the 2018 World Cup tournament will be presented live on a big LED video wall. Fans can cheer on their favorite teams from a 2,000-seat grandstand.
When Bike & Style takes over the airport from August 3–19, it won't just be planes getting airborne. International stars from the mountain biking and freeriding scene will put their skills on display in spectacular shows.
Passengers spending time at Europe's only five-star airport can borrow bikes to try out the course for themselves.
Visitors to Taste & Style from September 7–9 will experience a flavor extravaganza. The innovative food festival in the MAC will feature food trucks, artisanal food stands and a stage with live cooking shows.
The traditional Winter and Christmas Market has been a winter highlight at Munich Airport for 20 years.
This year's edition will take place from November 17th to December 30th. Up to 45 stands, more than 450 real Christmas trees and a 600 square meter ice rink will create an authentic seasonal atmosphere at the airport.