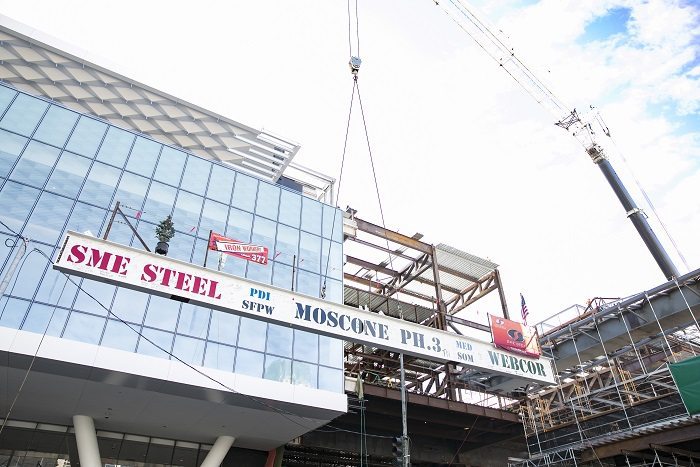 Mega MICE center already breaking records in San Francisco
"I am proud to say that the project is on time and on budget, and we are looking forward to the Grand Opening Ribbon Cutting, scheduled for Jan. 3, 2019," said Joe D'Alessandro, president and CEO of the San Francisco Travel Association, commenting on the topping out of the Moscone Center.
The last major beam of steel was erected at San Francisco's Moscone Center today, reaching a major milestone in this $551 million expansion project that will create an exciting urban landscape while bringing the center's total exhibit space to more than 504,000 sq. ft.
"San Francisco welcomes more than 25 million visitors each year, and over 20 percent of those visitor pass through Moscone Center. It is important that San Francisco stay competitive with expanded and upgraded convention facilities. This project has achieved that," D'Alessandro stated.
San Francisco Travel, the destination marketing organization, is actively booking the new space for 2019 and beyond. In fact, there are over 1.1 million definite room nights on the books in 2019, more than any other year in history. The location of the Moscone Center continues to be an asset in itself, just a few minutes' walk from 22,000 of the city's 33,000-plus hotel rooms, world-class dining, shopping and cultural venues including museums, galleries and theatres.
The expansion project, which began construction in November 2014, will add more than 157,000 gross sq. ft. of flexible meeting space to Moscone North and South on Howard Street, between Third and Fourth Streets. The addition creates more than 504,000 gross sq. ft. to be used as contiguous exhibition space or flexible meeting space. There will be the ability to have over 80 meeting rooms.
Expanded lobbies in Moscone's North and South buildings will total approximately 60,000 sq. ft. Two new floors of column-free meeting space include a 50,000-square-foot ballroom.
About 40 percent of the expansion opened in September 2017 and has been in active use. Attendees are already enjoying the clean look and feel and flexible space that will be found throughout the completed project.
The project also includes two new pedestrian bridges across Howard Street, the East Bridge and West Bridge. The East bridge will allow event attendees to access the upper levels of Moscone North and Moscone South without returning to ground level. It will also feature a public art piece designed by Leo Villareal, who also designed the iconic Bay Lights on the San Francisco-Oakland Bay Bridge. The West Bridge is a public access bridge connecting the Yerba Buena Gardens on either side of Howard Street. There will be landscaping and public art on the span of the bridge.
The major steel for the new East Bridge – 337,000 pounds in total – was erected on the weekend of Feb. 16. The major steel piece for the West Bridge was erected on the weekend of March 10.
The project also includes the addition of a San Francisco Visitor Information Center staffed by San Francisco Travel, open to attendees and all visitors.
The expansion of Moscone Center is designed to be LEED Platinum Certified. Sustainability features include the largest rooftop solar array on a building in San Francisco, generating up to 19.4 percent of the building's energy needs. Moscone Center will be net-positive on water, on on-site water treatment plant and will be a zero-emission building.
Behind-the-scenes benefits include an expanded kitchen, expanded freight access for move-in, move-out; built-in show offices and an improved public realm in areas around the center.
The architects are Skidmore, Owings & Merrill, in association with Mark Cavagnero Associates. The construction contractor is Webcor Builders. Project management and construction management are by San Francisco Public Works and the San Francisco Tourism Improvement District Management Corporation (SFTIDMC). The Moscone Expansion project is a partnership between the SFTIDMC and the City & County of San Francisco.