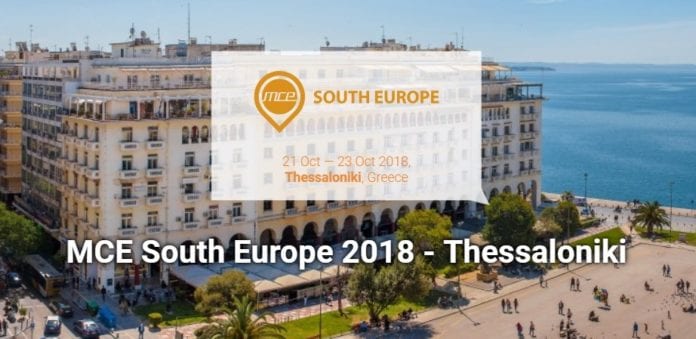 MCE South Europe 2018: Final preparations fine-tuned
Enhancing excellence in each edition of Europe Congress' MCE forums, MCE South Europe is taking place from October 21-23 in Thessaloniki. The MICE B2B forum promises to be even more successful than its previous editions welcoming up to 200 professionals from the event industry. With a 2.5 days full program of business encounters, each participant is assured to leave the Greek co-capital with meaningful new contacts and a high satisfaction of meeting outcome.
The event program will be starting on Sunday with a welcoming of all participants at the fantastic event venue: Makedonia Palace Hotel. Before leaving for the luxurious property of Mediterranean Palace all participants will have the opportunity to see three new venues in the renovated harbor area of the city. The dinner at The Luxury Hotel Group venue will have a big networking element and of course, a lot of entertainment. The highlight of the evening will probably be performed by an amazing Greek folklore band.
Monday will start with an insight into South European destinations animated by event MC Jonathan Bradshaw where participating Convention Bureaus and Destinations will be presenting the huge potential of their destinations. The day will be filled with the business erecting One-to-One meetings. Destinations and Solution Providers from all over South Europe are meeting up with carefully selected International event planners. Refreshing networking coffee breaks, rich luncheons and various ongoing treats will allow the hard-working participants to re-energize. In the early afternoon everyone will attend The Meetology Lab's educational session: The Science Powering World-Class People Skills. Monday will be closed by a surprise evening program with dinner & party at the amazing Grand Hotel Palace.
The 3rd and final day of the event, Tuesday, will start by some presentations of participating providers that have brought various high value prices along with them to be drawn among the participating event planners. A great boost in the morning to fulfill more meetings, networking and connecting.
Alexandros Thanos, Vice Governor of Tourism and Culture at the Region of Central Macedonia states: "It will be a great honor to host MCE South Europe and all participants here, in the city of Thessaloniki. Coming to Thessaloniki, which is the capital city from Central Macedonia, will allow everyone to witness the diversity, high environmental value and cultural tourism resources.
The high quality coasts and beaches, the mythical and historical mount Olympus and Athos, the cultural heritage, the museums and archaeological sites, the rich ecosystems of lakes and rivers, uplands and mountainous areas of natural beauty, have set the Region of Central Macedonia amongst the most important tourism and business destinations in Europe and worldwide."