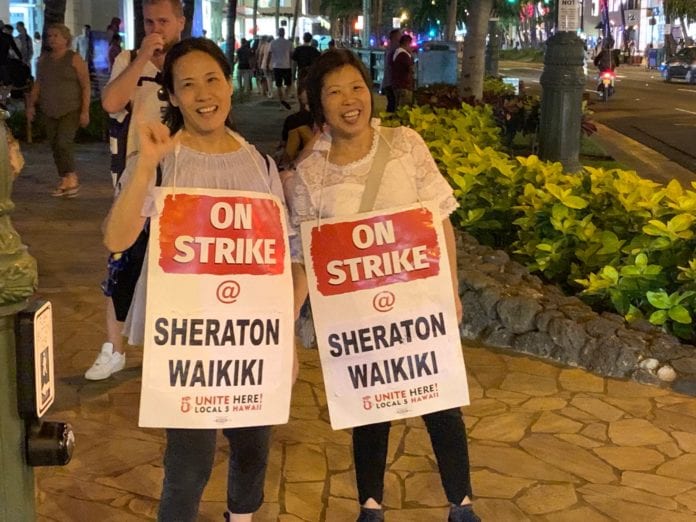 Marriott Hotel Strike in Hawaii may end after 51 days
For 51 days tourists that booked Sheraton Waikiki, Royal Hawaiian Hotel, Westin Moana Surfrider, Sheraton Princess Kaiulani and Sheraton Maui, had to clean their own rooms or make their own beds or self-service in hotel restaurants. Complaints about lack of hotel service from this strike resulted for a North Carolina couple to file a lawsuit, saying that strike-related lack of services ruined their honeymoon.
The owner of these Marriott hotels in Hawaii is Kyo-ya. Visitor arrival numbers to the Aloha State suffered and finally, today striking hotel workers were offered a $6.13 per hour in pay and benefit increases over four years in a new contract that should end the strike, that is becoming a routine among visitors since October 8. The contract must be ratified by the 2,700 striking workers who are voting today.
In the first year, non-tipped employees will get $1.50 per hour increase plus 20 cents per hour for medical, 13 cents for pension and 10 cents for a child/elder care fund. Tipped employees would get 75 cents per hour added to their pay.
Next year the pay and benefits increase would total $1, in 2020 it would increase by $1.76 and in 2021 it would be $1.44.
When the strike started workers were seeking a $3-hourly-wage increase for the first year and Kyo-ya had offered a 70-cent-hike for wages and benefits. The average Local 5 housekeeper makes $22 an hour.
Union members are currently voting at the Ala Moana Hotel. The vote result is expected to be announced tonight.
If the strike comes to end, it would be the longest in Hawaii in nearly 50 years.
Unite Here Local 5 President Gemma Weinstein said today, "We're grateful for the solidarity of our fellow union members and the support of the entire community. The new agreement meets the needs of the employees and the ownership group."
Picket lines will remain in place until the agreement is ratified by the 2,700 striking workers.
Strikes were also underway in San Francisco. Settlements have been reached in Boston, Detroit and the California cities of San Jose, Oakland, and San Diego.
The strike negatively affected the American Dental Association's annual meeting in Hawaii, which brought about 16,500 attendees and guests to Honolulu last month.
Hawaii Governor David Ige and Honolulu Mayor Kirk Caldwell supported the union.
Local 5 picketed the Hawai'i Convention Center for utilizing a staffing company that was supplying Marriott with temporary workers. Likewise, the union picketed the non-union Ritz-Carlton Residences, Waikiki Beach for sending employee support to Marriott hotels where workers were striking.