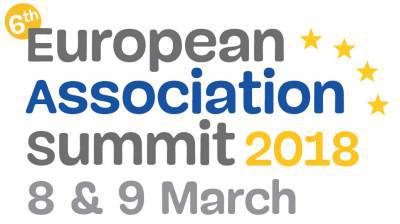 Just one month to go until the sixth edition of the European Association Summit
The big annual meeting for professionals from the association sector, which will take place
on 8 and 9 March 2018 at the Square, will present the latest trends concerning
international associations. This year, two more associations – ICCA and PCMA – will be
joining the event.
Organised in Brussels for the last 6 years by visit.brussels, the European Association Summit
is the annual not-for-profit trade show created by associations for associations. Experts from
the international association sector and professionals from different professional fields meet
each year to share their experiences and learn from those of their peers. Over time, the
conference has proved the essential role it plays for association representatives from around
the world.
Thanks to the participation of more than 150 association representatives from every
continent, the goal of the European Association Summit is to:
• train associations in managing and strengthening their networks;
• establish a real forum on the challenges that the sector and society face;
• be an incubator for ideas and act as a springboard for projects by international
associations;
• highlight the diversity and richness of a constantly evolving sector.
The Brussels-Capital region is the only place in the world to regularly hold an event like this.
New partnerships and new challenges
Championed by Małgosia Bartosik, assistant secretary general of WindEurope, the 2018
edition will address good practices in engagement, collaboration and innovation through
powerful presentations, intense debates and cutting-edge tools.
The conference is supplemented by new international partnerships with the participation of
the (International Congress and Convention Association) and the PCMA (Professional
Convention Management Association). These come on top of partnerships already
established in Brussels, thereby confirming the high quality and educational nature of the
event.
"These new key global partnerships show the strength of the event as an unmissable platform
for ongoing training for the sector, and of Brussels as the capital of international
associations," said Patrick Bontinck, CEO of visit.brussels, the organiser of the event.
The President of the European Committee of Regions, Karl-Heinz Lambertz, will touch on the
topic of collaboration, which is essential for associations. Current challenges for
organisations, such as the general data protection regulation (GDPR), leadership skills,
creativity in organising events and project management, will also be discussed in topical
sessions. The speakers come from backgrounds as varied as the airport sector, the fragrance
sector, nanotechnology, and cultural management, and will share their expertise.
For more information on the programme and the list of speakers: www.easummit.brussels