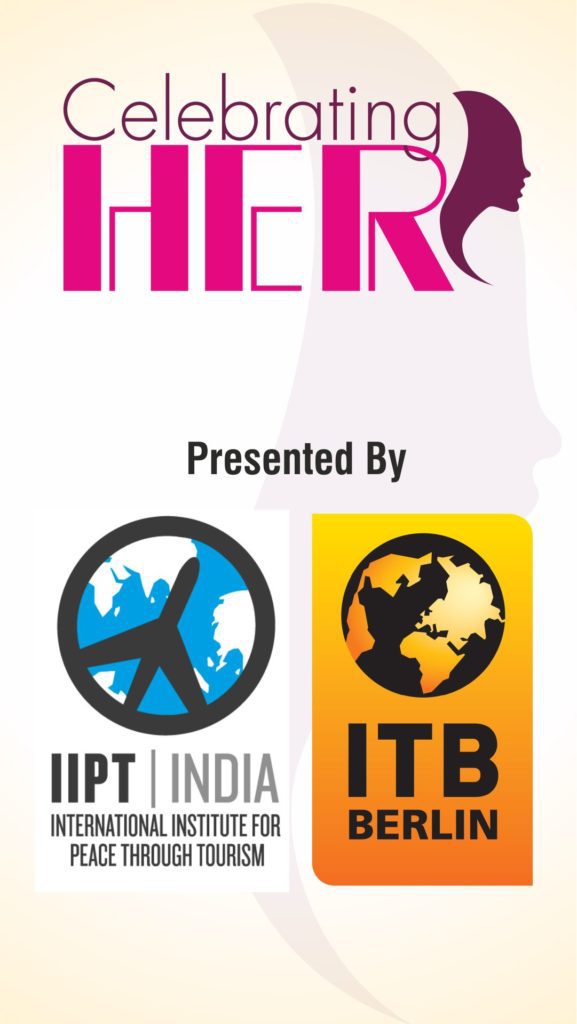 International Institute for Peace Through Tourism is Celebrating Her at ITB
For the third consecutive year, on International Women's Day, 8th March, ITB Berlin will play host to the International Institute for Peace – India's Global Awards for Empowered Women in Tourism – "Celebrating Her."
Five exceptional women from the world of tourism will be felicitated for their achievements and for their contribution to promoting tourism as a vehicle for peace and understanding.
The Awards will be held from 1415 to 1530 at the Palais am Funkturm (Hall 19) on the ITB fairgrounds and will be preceded by a discussion on "Opportunities and Challenges in Tourism for Women Entrepreneurs."
The Celebrating Her award winners for 2018 are:
Sandra Howard Taylor – Viceminister of Tourism, Colombia – for Using Tourism to Transform Communities
Isabel Hill – Director, National Travel & Tourism office, US Dept of Commerce – for Tourism Policy
Caroline Bremner – Head of Travel Research, Euromonitor International – for Tourism Research and Education
Daniela Wagner – Director, International Partnerships, Jacobs Media Group & Director EMEA, PATA – for Building Global Alliances that promote Tourism as a Force for Good
JyotsnaSuri– Chairperson & Managing Director Lalit Hotels, India – for Tourism Leadership
Commenting on the Awards, Ajay Prakash, President of IIPT India says, "Each one of our winners this year is a champion. From hospitality, to research to policy to forging powerful global connections, these ladies have reached the top of their chosen paths in tourism. We are thrilled to have such an illustrious set of award winners and perhaps it's planned coincidence that the awards are being held on International Women's Day, but our champions need to be felicitated every day of the year … 'Not because they're better,' as beautifully said by Dr.Taleb Rifai the former Secretary General of UNWTO at the first edition of Celebrating Her, 'but because they're equal.' Women have a greater stake in peace, especially in the developing countries, and through the 'Celebrating Her' awards we're hoping to create a community network of powerful women in tourism who will work, together or individually, to realize the power of tourism as a vehicle for Peace."
Rika Jean-Francois, CSR Commissioner for ITB Berlin said "We are very happy to cooperate with IIPT India for these wonderful awards. The Celebrating Her awards were first organised at ITB Berlin 2016 and have become one of our very important events. Women play such an important role in tourism and this needs to be recognised."
Previous award winners include:
2016:
Dr. Nicole Haeusler Consultant for Responsible Tourism, Myanmar for Community Based Tourism
Ms. Aileen Clemente President of Rajah Travel, Philippines for Tourism and Peace
Dr. Dietlind von Lassberg Vice Chairwoman of Institute for Tourism & Development, Germany for Tourism Education
Ms. Jane Ashton, Director of Sustainability, TUI Group, UK for Tourism Sustainability
Ms. Valsa Nair Singh, Tourism Secretary, Govt. of Maharashtra for Innovation in Tourism
2017
Ishita Khanna – India. Co-founder of Ecosphere, for Community Eco Tourism
Ha Lam – Vietnam. Co-founder of Triip.me, for using Technology to Empower Local Communities
Claudia Brozel – Germany. Professor, University of Sustainable Development, for Tourism Education
Ruth Hopfer-Kubsch – Germany. Director of Studiosus Foundation, for Responsible Tourism
Mmatsatsi Ramawela – South Africa. CEO of Tourism Business Council of S.A., for Tourism Leadership
Reacting to the news, Sandra Howard Taylor said, "It is an honor I receive full of emotions and I'm very grateful as leader of a team that put our hearts into what we do. This recognizes all Colombian women that work very hard, each day, sometimes in remote areas, to improve the lives of our communities in a country that is finally building Peace with sustainable tourism as our best tool for a great future".
Caroline Bremner had this to say, "I'm delighted and honoured to receive a 'Celebrating Her' Global Award from such a prestigious organisation as the IIPTI. It's great to receive this recognition for my thought leadership in travel, and to know that my research has helped others to forge a path in uncertain times. I'm looking forward to continuing to work closely with such talented friends and colleagues that share a passion for travel."
About IIPT:
Founded in 1986 by Louis D'Amore, IIPT is built on two very simple but powerful premises: That tourism, perhaps the biggest industry in the world, can become the first global Peace Industry and that every tourist is potentially an Ambassador of Peace. Through global summits, conferences, workshops, awards, the global Peace Parks initiative, consultations with governments and the UNWTO and a regular monthly newsletter, IIPT has worked conscientiously over the last 30 to make peace an integral part of the tourism ecosphere.
IIPT India is non-profit registered with the Indian Registrar of Companies