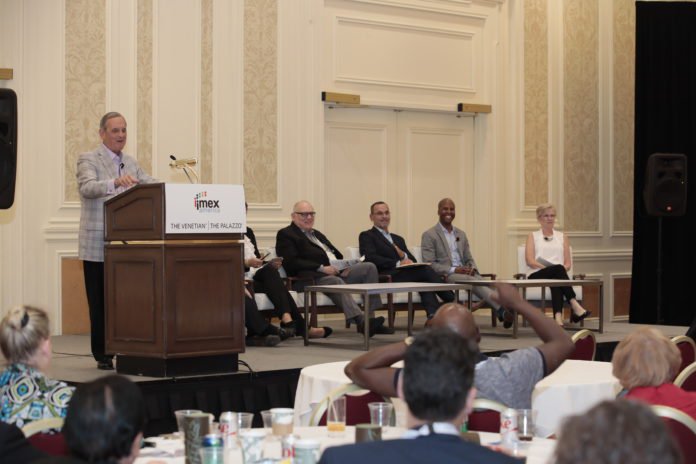 IMEX Leadership Forum: You will be challenged and inspired
Designed exclusively for senior association leaders from around the world, the IMEX Association Leadership Forum takes place the day before IMEX America on Monday, October 15 ,as part of Smart Monday. The free high-level strategic education and networking program is open to those working at senior leadership level within associations and covers multiple challenges of association management and development.
For association leaders, it's essential to look ahead and be aware of future trends. We all know it's important, but how do you find time to set aside the daily to-do list to discover future developments and insights? Here's where the IMEX Association Leadership Forum, created by ASAE, comes in.
Inspiring & challenging – the Association Leadership Forum
The highly interactive Forum uses case studies and blends presentations, peer to peer discussions and an executive level panel – all designed to address the high level strategic issues that currently challenge leadership teams. During the day, association leaders are inspired and challenged by leadership visionaries and role models from a variety of professional and trade association backgrounds.
John H. Graham, FASAE, CAE, President & CEO of ASAE: The Center for Association Leadership, begins the Forum by exploring the leading drivers of change in the industry in his session Focus on the Future.
The meaning of diversity and how it can benefit revenue, employee engagement and innovation is covered by Patricia Blake, FASAE, CAE, Chief Executive Officer at the American Society for Gastrointestinal Endoscopy (ASGE). An experienced association CEO, Patricia will share the simple steps associations can take to expand their reach and relevance.
With 92.2%* association members volunteering (The Decision to Volunteer*), volunteers are at the heart of associations. Peggy Hoffman, FASAE, CAE, President & Executive Director of Mariner Management & Marketing, and expert at building communities within associations, will explain the recruitment and engagement techniques needed to build a mutually beneficial volunteer program.
Association members expect technology to support and enhance all aspects of their member experience and Matt Loeb, CGEIT, FASAE, CAE, Chief Executive Officer at ISACA (Information Systems Audit & Control Association) will explain how in his session Embrace Digital Transformation. Attendees will learn how to transform their organization to operate as a digital business.
With an increasing number of associations repacking their traditional membership offering, what are the options, and what are the results? Stefanie Reeves, MA, CAE, Executive Director of Maryland Psychological Association, will explain.
The day ends with a panel discussion on the future of events, followed by Association Evening – a well-loved event to end Smart Monday and celebrate the start of IMEX America. Association professionals can unwind with their peers, reconnect with old friends and forge new connections ahead of the show which runs October 16 – 18 in Las Vegas.
Carina Bauer, CEO of the IMEX Group, explains:
"We know from talking with senior association professionals that they really value high quality opportunities to spend dedicated, focused time together. Association Leadership Forum has been designed specifically with these individuals in mind, offering intellectually demanding, creative and unlimited peer learning.
"The program evolves each year to respond to the changes and challenges in the association sector, but always retains its main aim – to leave association professionals inspired, motivated and ready to embrace future developments."
Association Leadership Forum is designed for association leaders and all sessions qualify for CMP CEU credits. Registration is free.
IMEX America will take place October 16 – 18, 2018 at the Sands® Expo and Convention Center at The Venetian® | The Palazzo® in Las Vegas, preceded by Smart Monday, powered by MPI, on October 15.