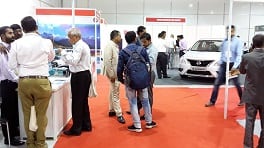 IITM, a three-day travel and tourism event, opened at Mumbai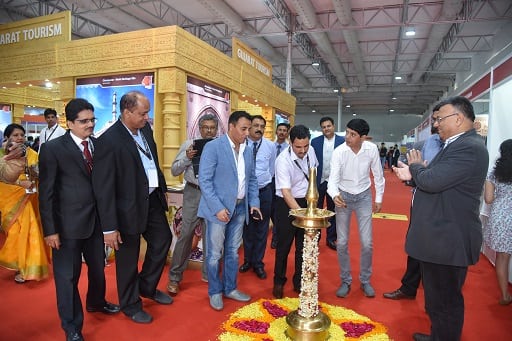 Sphere Travelmedia & Exhibitions is pleased to announce the 108th edition of its 'India International Travel Mart', to be held from 28 – 30 September 2018, at MMRDA Grounds, Bandra Kurla Complex, Mumbai.
The exhibition will be inaugurated by Hon'ble Sri. Om Prakash Bhagat, Director, Tourism Jammu, on Friday, 28 September 2018 at MMRDA Grounds, Bandra Kurla Complex, Mumbai.
With this year's edition of 'IITM' in Mumbai, Sphere Travelmedia & Exhibitions completes Nineteen years of providing the travel industry and discerning buyers from the travel-trade and corporate sector an opportunity to do business.
'India International Travel Mart' will showcase a variety of destinations from different spheres such as pilgrimages, adventures, culture & heritage, beaches, hills and much more. The event will have over 250 participants from over 8 countries and over 20 Indian states. The participants include Travel Agents & Tour Operators, DMC, Hotels & Resorts, National Tourist Organizations, Cruises, Airlines, Online Travel Portals etc.
The three-day event will showcase glimpses from the travel, tourism and hospitality industries. The time for IITM Mumbai is perfect for the upcoming holiday season in India, Dussehra (Vijayadashami also known as Dasara, Dussehra or Dussehra is a major Hindu festival celebrated at the end of Navratri every year) & Deepavali, with long weekends as well as round-the-year travel, vacations and business plans.
Speaking on the occasion, Mr Sanjay Hakhu, Director, Sphere TravelMedia said, "India in spite of the present business environment is fast emerging as one of the most interesting and productive countries for the travel trade industry both for leisure and business travel. A combination of factors is responsible for the growth and demand of travel trends from India. The visitor profile is on a B2B & B2C format like and will have over 15,000 buyers over three days".
Tourism Studies and Trends indicate that the year 2018 – 19 will see more than 20 million Indian tourists embanking on overseas travel and with the advent of low-cost international airfares and holiday packages that are available on monthly instalments payable over a period of time, International travel is no longer a luxury.
Highlights:
Some of the International participants who are participating this year include participants from Bhutan, Dubai, Iceland, Maldives, Thailand etc
Gujarat and Goa are the 'Partner States' while Andhra Pradesh, Himachal Pradesh, and Jammu & Kashmir will be the 'Feature Destinations' at the event.
Other states being represented include Karnataka, Kerala, Punjab, Rajasthan, Tamil Nadu, Puducherry, Madhya Pradesh, Telangana, Andhra Pradesh, Haryana, West Bengal and many more.
More than 150 hotels and resorts are participating from all over India, making it one of the most diverse ranges of hospitality products in the country on display.
Diverse Tourism segments on display such as Pilgrimage Travel, Adventure, Cultural pursuits, shopping tours, etc.
International Holiday Packages from IRCTC
The 'India International Travel Mart' provides an ideal 'marketing opportunity' and 'excellent backdrop' to enhance the participant's 'brand-equity' in the eyes of the discerning end consumer and the travel-trade.
Boost for Domestic Tourism:
The event showcases travel and hospitality products from every part of the country, making it one of the biggest congregations of travel-trade in the country. The event provides unmatched networking opportunities to interact with Travel-Trade and Corporate Buyers alike.
Mr Rohit Hangal, Director, Sphere Travelmedia added: 'domestic travel as the backbone' of India's tourism portfolio and with an estimated 561 million domestic tourist visits. This segment is probably only second to China in terms of sheer size. With the rapid economic development taking place in the country and availability of greater disposable income combined with affordable holiday packages, tourism in India is increasing steadily and acts as a catalyst for the furthering the economic growth in view of its wide-ranging linkage effects and multiple impacts. The participants from the states of Karnataka, Kerala, Andhra Pradesh, Rajasthan, Gujarat, Himachal Pradesh, and many more destinations will be seen aggressively marketing their products will be there with their travel and tourism stakeholders".