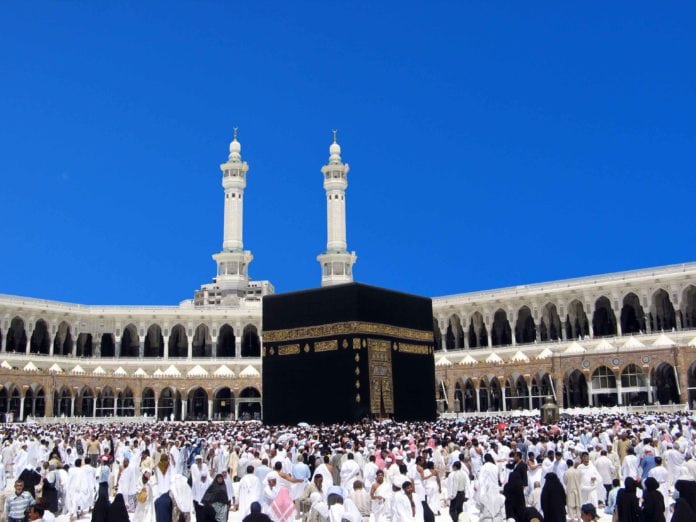 How to keep 3 million pilgrims safe in Mecca?
Dubai, International SOS, and Control Risks, provide advice on how to have a healthy Hajj in Saudi Arabia, as well as important tips for business travelers to the region during the pilgrimage this month.
Close to 3 million foreign and domestic pilgrims are expected to perform their religious duties in Mecca, Mina, Arafat & Muzdalifah between Sunday 19 August and Friday 24 August, with many also travelling to Medina in the weeks before and after the pilgrimage. Hundreds of thousands of travellers will have already arrived in Saudi Arabia, and local authorities and transportation hubs have been preparing for the busy period ahead.
International SOS top 15 travel advice tips during Hajj:
• Expect heightened security at transport hubs and increased congestion on certain overland travel routes.
• Consider ways to avoid congestion and heavily populated areas by reviewing transportation options. Further, pilgrims should confirm with their Hajj operator on the most appropriate times to perform the Hajj-specific rituals on the appropriate days.
• Monitor the news and follow official security advisories.
• Save emergency contacts on your mobile phone and make sure it is charged (police, ambulance, embassy, Line Managers, local contacts).
• Carry a copy of your ID and a copy of your medical records.
• Be able to present proof of all required Vaccines, specifically the quadrivalent meningitis vaccination, and those from exposed countries to show proof of yellow fever and polio vaccinations.
• In case of chronic diseases it is important to have enough supply of your medications.
• See your doctor before you travel if you have any medical conditions.
• Consider putting a bracelet around the wrist indicating if you are Diabetic, Asthmatic Epileptic etc.
• Consider wearing a facemask in crowded places and changing regularly.
• Be mindful of the local laws and culture. (Important note: Alcohol is prohibited in Saudi Arabia).
• Drink lots of water, and consistently, to avoid heat stroke– make sure this is bottled and avoid ice cubes.
• Be aware of the hygiene standards of restaurants and only eat from locations with high cleanliness.
• Make sure to wash your hands thoroughly and regularly.
• Pilgrims are advised to comply with the latest requirements issued by the government, namely through the Ministry of Hajj and Umra and the Saudi Ministry of Health, and to remain abreast of the latest news and recommendations.
Mazen Jomaa, Regional Security Manager at International SOS and Control Risks in Dubai, said:
"The Hajj & Eid Al Adha period will see a large influx of pilgrims arrive in Saudi Arabia. So whether travelling on business or as a pilgrim yourself preparations for generalised travel disruption are required during this busy period. While local authorities are very well prepared to manage this – through the designated Hajj terminal at King Abdulaziz International Airport – it is vital that travellers also take responsibility of their own safety and security."
Dr. Issam Badaoui, Medical Director of Assistance at International SOS in Dubai, said:
"One of the key things to remember is to carry the necessary vaccination documents to ensure smooth entry. There are a number of known diseases prevalent in the region that can be managed with practical attention to hygiene. It is also important to implement wellness measures to protect against any risk of illness and also to be prepared to cope with environmental issues, such as the extreme heat. To avoid the spread of bacteria or infections, pilgrims and visitors are advised to keep some distance from sick people and maintain a high degree of personal hygiene. Remember to choose clean, well-cooked food and safe beverages, including bottled water and pasteurised milk. Also, take measures to stay hydrated and cool to avoid heat-related illnesses."
Known Disease Related Advice
MERS-CoV is a virus first identified among humans in 2012. Saudi Arabia has reported more cases than any other nation. Many infected people have experienced acute illness with severe respiratory symptoms. Around 30% of those infected have died. The virus can spread from one person to another, however to date this has only happened in a limited fashion, to people who have been in close contact with an infected person.
Good hygiene measures can help prevent respiratory illnesses:
• Wash your hands frequently, especially after coughing/sneezing.
• Avoid touching your face.
• Keep some distance from people who are coughing, sneezing or appear sick.
• Avoid unnecessary direct contact with live animals.
Additionally, there are specific steps to take regarding MERS:
• Avoid direct contact with live animals, especially camels, and their environment
• Do not eat undercooked camel meat or drink raw camel milk or camel urine.
• Avoid contact with sick people, including in health facilities.
• Should you require medical attention, call any assistance centre and we will arrange an appropriate referral.
• Seek medical attention if you develop a fever and/or respiratory symptoms (like a cough) that are moderate to severe while in the Middle East or within 14 days after leaving the region – try to minimise your contact with other people until you talk to a doctor or nurse. Consider wearing a surgical mask if you must be in contact with others.
Malaria: Malaria is present in some areas of Saudi Arabia by the Yemeni border, particularly Asir (below 2,000 metres) and Jizan. Though not a vaccine-preventable disease, travellers can protect themselves from malarial infection by preventing mosquito bites while outdoors:
• Wear clothing that covers most of the body (long sleeves and long pants).
• Use an effective insect repellent, such as one that contains DEET, Picaridin, PMD or IR3535. Follow the manufacturer's instructions, and reapply after swimming or excessive sweating.
Preventing mosquito bites while you are indoors or asleep:
• Use "knock-down" insect spray to kill mosquitoes in your room.
• Use mosquito coils or electric insecticide vaporisers if mosquitoes can get into your room.
• Choose air conditioned accommodation if possible.
The disease is not usually present in Mecca or Medina but is found in other areas of the country. Travellers visiting the western emirates bordering Yemen, including Asir and Jizan, or rural areas should consider chemoprophylaxis for chloroquine-resistant P. falciparum malaria.
Zika virus and Dengue: The mosquito that carries these viruses has not been detected in the Hajj and Umrah areas for many years however; competent mosquitos are present in other areas in Saudi Arabia. All travellers are advised to take insect bite avoidance measures during the day and at night-time. This is particularly important for those who are arriving from Zika endemic countries and territories.