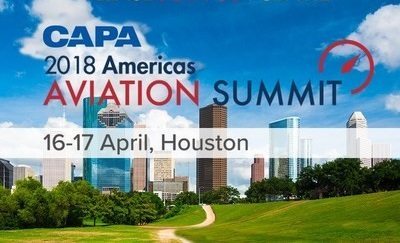 Houston Airports hosts CAPA Americas Aviation Summit
CAPA – Centre for Aviation (CAPA) will present a high-level forum for debate and discussion of strategic issues facing the region's aviation industry, it was announced by CAPA Executive Chairman Peter Harbison today.
This year's summit to be held April 16 & 17 at the Hilton Americas-Houston and hosted by Houston Airports brings together airline and travel industry CEOs from across the Americas region, Asia, Europe and the Middle East. Speaker highlights: Indigo Partners, Managing Partner, William Franke; Houston Airports, Director of Aviation, Houston Airport System, Mario Diaz; Volaris, CEO, Enrique Beltranena Mejicano; FedEx, MD, Regulatory Affairs, Nancy Sparks and others.
Within the airline industry, CAPA's Americas Aviation Summit is widely regarded to be the highest-level aviation event of the North Americas region. The summit will feature panel discussions on issues in the US domestic and international aviation markets, the regulatory toolbox in higher growth markets, aggressive pricing, foreign ownership rules for domestic airlines, embracing digital disruption in airline distribution, plus much more.
"This is an extremely high-level event," explains CAPA Executive Chairman Peter Harbison, "drawing Airline CEOs, senior industry executives and senior travel industry representatives from around the world."