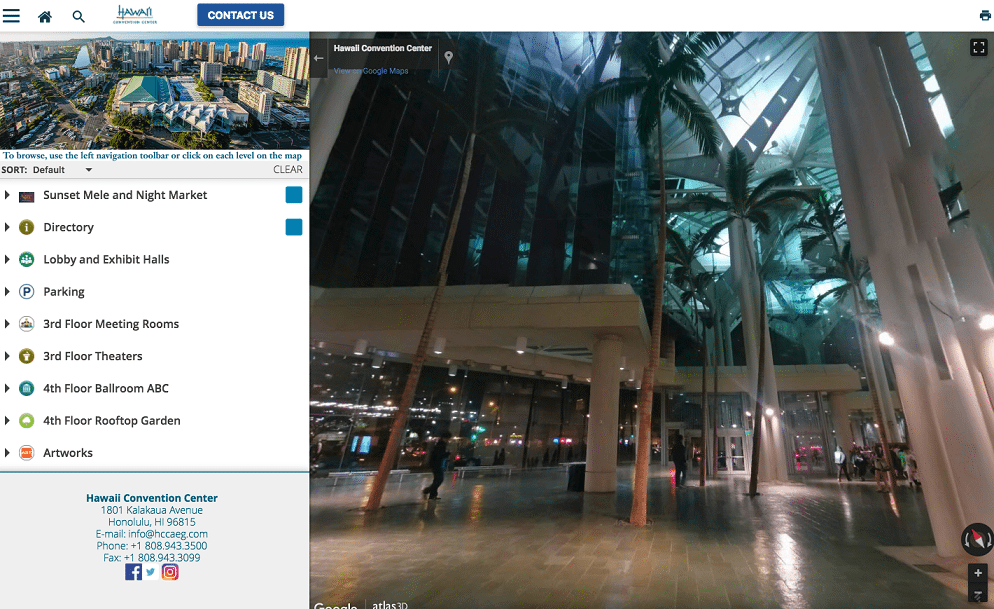 Hawaii Convention Center launches 3D mapping
Located in the heart of cosmopolitan Honolulu, surrounded by museums, cultural centers, shopping, and more than 100 diverse dining options, the Hawaii Convention Center is one of the most unique meeting spaces in the country, with an open-air design that brings the outdoors inside and allows meeting participants to experience a true Hawaiian sense of place.
Concept3D, a company that brings physical spaces into the digital world through 3D modeling, virtual reality (VR), interactive maps, and immersive virtual tour software, today announced that the Hawaii Convention Center has launched the company's interactive map and virtual tour platform.
The new 3D map creates a fully interactive and richly-detailed digital version of the 1.1 million-square-foot Hawaii Convention Center. The multi-level map profiles the convention center's 200,000-square-foot Kamehameha Exhibit hall; 35,000-square-foot Kalakaua Ballroom; registration lobby, 47 meeting rooms; two-tiered seating theaters; and 2.5-acrerooftop events garden, and makes it easy to find on-site artworks, basketball and volleyball court information, restrooms, parking, transit, and nearby attractions, among many other guest and event planning needs.
The new interactive map is prominently displayed and accessible on the Hawaii Convention Center website and is designed to give convention center guests an easy and mobile-friendly way to navigate to, around, and within the convention center. The software application was designed by Concept3Dspecifically to help convention centers, resorts, and other meeting and events spaces cater to the needs of meeting and event planners and simplify the event-planning process.