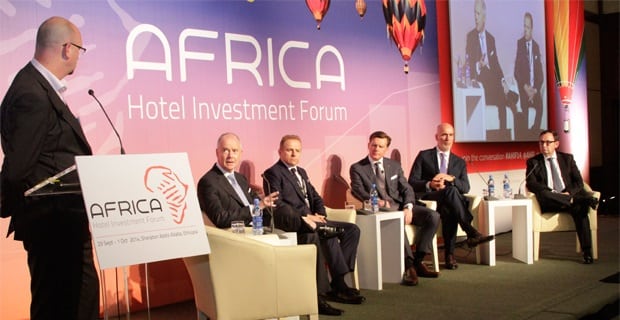 Global hotel industry CEOs see Africa as a strategic priority
When the Africa Hotel Investment Forum (AHIF) takes place in Nairobi in October, it will host the strongest line up of global hotel industry CEOs in its history. Amongst those present will be:
• Christopher J. Nassetta, President & CEO, Hilton and Chairman, WTTC
• Federico J. González, President & CEO, Radisson Hotel Group
• Sébastien Bazin, Chairman and Chief Executive Officer, AccorHotels
• Alex Kyriakidis, President & Managing Director, Middle East & Africa, Marriott International
• Olivier Granet, Chief Executive Officer, AccorHotels Middle East and Africa
• Cedric Guilleminot, Chief Executive Officer, Onomo Hotels
• Mossadeck Bally, Chief Executive Officer, Azalaï Hotels Group
• Philippe Baretaud, CEO, Mantis Collection
• Ignace Bauwens, Regional Vice President, Middle East, Eurasia & Africa, Wyndham Hotels & Resorts
"Whilst AHIF is known as the top gathering of the hospitality industry in Africa, there has to be more to it than this, as it's the first time so many CEOs of the world's biggest brands have appeared in Africa at the same time", says Matthew Weihs, Managing Director of Bench Events, which organises AHIF. "The presence of so many of the world's top hoteliers sends a signal that Africa is open for business and is viewed as a strategic growth market for the industry."
There is a great deal of evidence to support that opinion. Daniel Silke, Director of the Political Futures Consultancy and AHIF keynote speaker, said: "In the coming decade, I wouldn't be surprised to see a few African countries, potentially Ethiopia, Cote D'Ivoire and Ghana, in the top ten list of the world's fastest growing economies." He also pointed to a compelling list of attractive features of Africa for the hotel investment community. These include: several rapidly-expanding major cities; increasing interest from international tourists; a low number of hotel rooms per head of population, compared to the more developed parts of the world; a huge surge of inward investment, particularly from China; and an increasingly business-friendly political and economic climate, characterised by a new generation of political leaders, who are more open to public-private partnership and see hotels as crucial infrastructure to facilitate growth.
The enthusiasm of Kenya's government and its charismatic Cabinet Secretary, Ministry of Tourism & Wildlife, Hon. Najib Balala, is likely a factor too. He has ensured that during the first week of October, in parallel with AHIF, Kenya will also be hosting the Magical Kenya Travel Expo to promote Kenya and East Africa as a leisure destination. It is also understood that he wants to announce new incentives for inward investment and facilitate dialogue between the President of Kenya and business leaders when they are in Nairobi in October.
A comment from Matthew Weihs, may further explain what is really going on: "When political leaders go out of their way to look after international investors and create a tourism-friendly business environment, it does a lot for confidence – Africa is clearly improving as a destination for foreign capital, with more measures to protect assets and make it easier to repatriate profits. I can't wait to hear what will be said at AHIF."