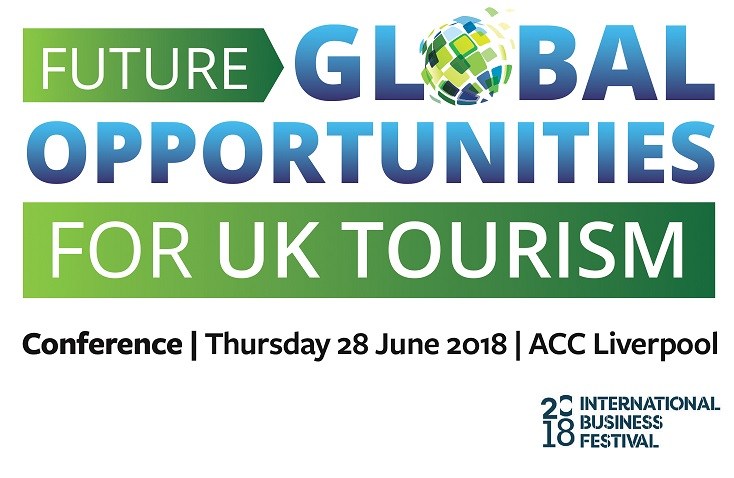 Future of UK tourism takes center stage at International Business Festival in Liverpool
The future of UK tourism will be taking center stage at the International Business Festival in Liverpool on 28th June 2018 at one of the travel industry's major conferences this year – 'Future Global Opportunities for UK Tourism'.
Targeted at industry decision makers, the organisers Cheeky Monkey Media Ltd, has announced the first tranche of speakers.
Jon Young, from award winning market research consultancy bdrc, will be setting the scene for the day's conference, with a look at the major trends that will impact directly on business opportunities for UK tourism in the coming years.
Airline industry consultant John Strickland, Director of JLS Consulting and a regular expert contributor to media including the BBC, CNN and Sky, will be chairing a panel discussion on UK regional airports and the airlines that use them. What role do they play in providing connectivity for the UK? Are the UK regions more dependent on overseas hubs and do new airline business models mean there will be more direct flights? Will they become more important as key drivers in delivering visitors to the UK from abroad and increasing outbound travel?
In a fascinating session on the revolutionary impact of Artificial Intelligence and technology on tourism driven by a need to offer customers the ultimate personalized experience, Katie King, a recognised expert and commentator on social business strategy and digital transformation and Managing Director of Zoodikers will tackle the topic 'Business 4.0. How can the tourism industry adapt to survive and thrive?' Katie has worked with the likes of Visit Scotland, Montcalm Hotels, Harrods, 02, Virgin, Arsenal FC and NatWest and has delivered two TEDx presentations, is a regular international speaker and a frequent commentator on BBC TV and radio.
Jennifer Cormack, Sales and Marketing Director Windermere Lake Cruises will give delegates an insight into how the company pursues international trade. The session will illustrate the importance of working collaboratively, forming and working with marketing consortiums such as the Lake District Japan Forum and the Lake District China Forum to attract specific markets and how this model can be used to develop future opportunities in global tourism.
The conference will also be tackling the topics of Brand Britain, brand loyalty as well as providing case histories from both the UK and internationally illustrating ways in which the industry has embraced opportunities for growth and development.
The last session will invite leaders and influencers to tackle 'the new tourism world order'. What will be the new revenue generators? What are the opportunities for growth? Is there a need for a new way of thinking and operating?
Speakers and panellists for these sessions will be announced in the next month
Joining forces with the Festival organisers the conference will close with a keynote address on the Futures Stage by Cherie Blair, CBE, QC. She will be speaking on 'The Importance of People in a Globalised Economy.'
Cherie Blair is a leading international lawyer, committed campaigner for women's rights and the wife of former British Prime Minister Tony Blair.
The conference is gaining considerable support from the industry including UKinbound, VisitBritain, VisitEngland, British Airways, Marketing Liverpool, Visit Heritage, Windermere Lake Cruises, Hudsons, Signpost, AGTO, Tourism Society, Tourism Alliance and Lake District China Forum.