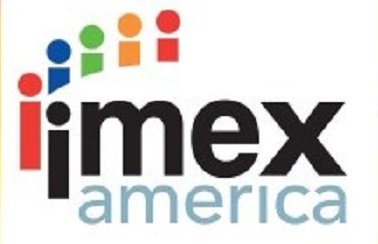 From the latest tech to simple story telling: Planners achieve business success at IMEX America
Business continues apace during the second day of IMEX America currently taking place in Las Vegas. "This has been our best IMEX so far – we already have some very good opportunities for groups to come to Guam in 2019 and 2020. The show is a great place to cultivate relationships and develop good business," confirms Pilar Laguana, director of global marketing at Guam Visitors Bureau.
Susan Koczka from Connecticut Convention & Sports Bureau says: "All of our presentations have sold out and our scheduled appointments have been very high quality with dates already in place. We received four or five RFPs and spec sheets in advance which is amazing!"
Marissa Hoppe, VP of sales & marketing at Sanctuary Hotel New York, adds: "This is the first time we've had our own booth at the show and we've met with planners looking to host small incentive groups. As a boutique hotel, these type of business conversations are the perfect fit for us."
When it comes to achieving business success, what does storytelling have to do with it? Everything! Paul Smith, who delivered today's MPI keynote Lead with a Story, explains why.
"Facts and figures and all the rational things that we think are important in the business world actually don't stick in our minds nearly as well as stories – no one is immune to the effects of a good story."
Professionals who can create and share good stories have a powerful advantage over others advised Paul, who shared the nuts and bolts of how to create a powerful story. He believes that stories inspire action and whether sharing a vision, leading change, boosting creativity or marketing a product or service, storytelling can help professionals to do it better.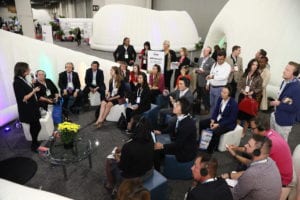 Planners learn the latest in VR
"I'm a big believer in storytelling and have been trying to convince my clients to incorporate storytelling into their sessions. Paul's keynote has given me the tools to be able to do that. Everyone has a story and being able to share it with others can be very effective," says audience member Robert Taylor, a buyer from Hawaii.
The importance of technology in creating powerful, memorable and engaging events is widely known but which supplier is best for which type of event and how can they make a difference? Event professionals have been testing the latest technology and discovering which ones best fit their needs at the new Tech Zone. Curated by event technology experts The Meeting Pool, the Tech Zone showcases a range of solutions. Daily event tech tours give planners an overview of the many innovations. Serena Wedlake from Access Destination Services who attended the tour explains: "It's important for me to keep up to date with the latest tech so I can offer something new and relevant to my clients."
Tech exhibitor Expo Logic has seen particular interest in their face recognition technology as Dave Bradfield, vice president client success, explains: "Being at IMEX not only allows us to demonstrate our products and services face to face, but also helps to build long term relationships and trust. The interest in face recognition will only continue to grow as people become more and more comfortable with it."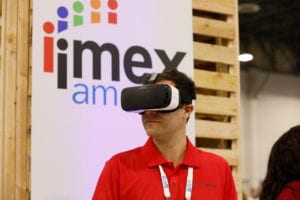 Cutting-edge tech
One fast evolving technology, VR, is set to become mainstream and part of the fabric of meetings and events. Sandy Hammer from AllSeated explained how in her education session Virtual reality: An accessible game changer in the event industry, showing planners how VR can boost sales and deliver a marketing edge.
"VR will have an effect across the whole of our industry," she said. "This innovative technology helps planners to tell the story of their venue or destination, showing the scale and space. VR really brings your offering to life and will help you win business – no question about it!"
eTN is a media partner for IMEX.