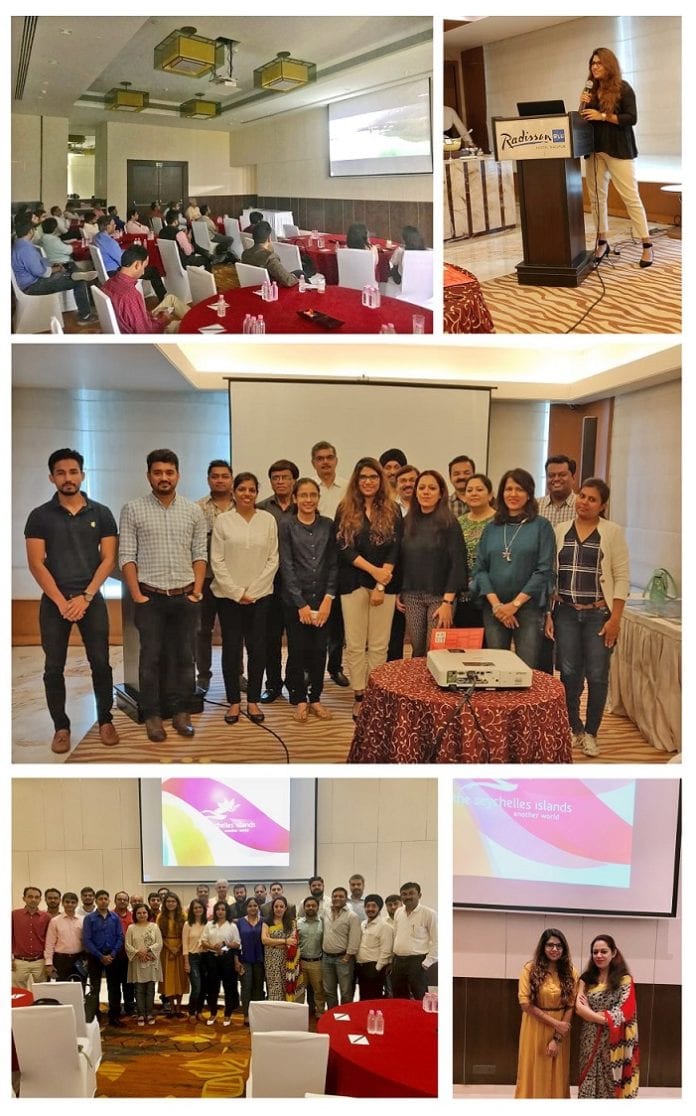 Seychelles Tourism Board conducts destination trainings in Surat and Nagpur
In line with its strategy to strengthen its trade relations in India, the Seychelles Tourism Board (STB) successfully completed a series of destination training sessions in Surat and Nagpur in the month of September 2018.
The workshops were conducted to engage a new set of tour operators who have the potential to promote the destination and equip them with information and details about Seychelles.
The format of the event contained similar elements in both cities, the events saw the participation of 25-30 companies and included a destination presentation made by the STB team in India, followed by questions & answers and networking sessions.
While Ms. Shakambri Soni from the Seychelles Tourism Board conducted the training, Ms. Neeti Bhatia, GM-Marketing and PR at Blue Square Consultants orchestrated the networking sessions ensuring quality meetings.
Commenting on the success of the workshops Ms. Lubaina Sheerazi, COO, Blue Square Consultants, STB office in India said that the event paves a way for new collaborations between the STB and new partners in India in view of creating more visibility and increasing the number of visitors from India.
'The workshop format is a great way of engaging many new and upcoming agents in any city, it gives a common platform for all to get information and support from the tourism board. Limiting the presentation to around 30 companies ensures good one to one interaction between the STB representatives and invited operators and leads to more serious business meetings between the two. Seychelles is now a choice of destination for target audiences beyond honeymooners and metro cities and penetration into tier two cities through this format provides a larger stage to initiate and nurture quality B2B interaction,' said Ms. Sheerazi.
Seychelles has seen a steady growth in inbound tourism from India with more than 10,000 passengers until September 2018.
India is the top sixth source destination for Seychelles and is seeing an increase in traffic from tier two cities of India.