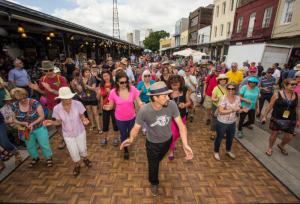 French Quarter New Orleans, the center of US Tourism today
In 2018 – French Quarter Festival celebrates its 35th Anniversary; Christmas New Orleans Style celebrates its 34rd anniversary; and Satchmo SummerFest celebrates its 18th anniversary.
French Quarter Festival was first produced in 1984 as a way to bring residents back to the Quarter; following the World's Fair and extensive sidewalk repairs in the French Quarter.
More than 1,500 community volunteers help to make the festival a success.
Chief sources of funding are: Sponsorships, beverage and merchandise sales, vendor fees, and annual Gala.
More than 20 stages throughout the French Quarter celebrate local music and represent every genre from traditional and contemporary jazz to R&B, New Orleans funk, brass bands, folk, gospel, Latin, Zydeco, classical, cabaret, and international.
New Orleans great restaurants serve food and beverages in Jackson Square, the Louisiana State Museum's Old U.S. Mint, JAX Brewery, and Woldenberg Riverfront Park during French Quarter Festival weekend; Satchmo SummerFest hosts New Orleans restaurants with Louis Armstrong-inspired dishes and great local cuisine. Louisiana restaurants are invited to participate in these festivals.
French Quarter Festival has been consistently voted "favorite festival", "favorite food festival", and "favorite event open to the public" by locals.