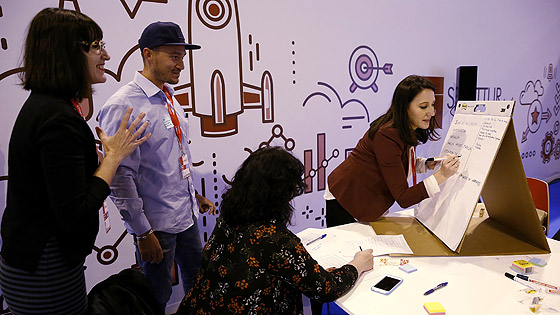 FITUR launches practical workshops for digital tourism solutions
FITUR launches practical workshops for digital tourism solutions
Gamification to promote innovation, how to apply chatbots to my business, or the digital tourist's customer journey are among the topics up for discussion in the workshops due to be staged as part of FITUR 2018, the International Tourism Trade Fair organized by IFEMA from January 17-21.
FITUR Know-How & Export 2018, the monographic section of the International Tourism Trade Fair, FITUR, devoted to digital transformation, is launching the second edition of SEGITTURLab, an ideas laboratory with six practical workshops for tourism entrepreneurs and professionals that seek to provide responses for the needs emerging from digital tourism.
Gamification, chatbots, customer journey, virtual reality, design thinking, and blockchains are the six topics set for this second edition of SEGITTURLab, featuring professionals and companies that are expert in each one of the subjects.
In the "Gamification to promote innovation in businesses" workshop, which will be imparted by the company Inteligencia Creativa, we will play a real round of Binnakle, a game through which responses will be found to a challenge faced by a tourism company.
The "How to apply chatbots in my tourism business" workshop, which will be imparted by Chatbot Chocolate and Stay-App, will conduct an overall review of chatbots, the technologies for developing them, the different use cases and the environments in which a chatbot can be deployed.
In the case of virtual reality, Iralta VR has designed a workshop dealing with the "10 tips for the good use of virtual reality in tourism", which will cover from storytelling to 2D vs. 360 videos, the strategy for creating experiences or hardware and software for its production.
Aiming to gain better knowledge of the digital tourist, a workshop on "Customer Journey" will be imparted by the Hydra Digital agency in a highly participative format devised for learning about tourists' behavior in every stage of a trip.
The "Blockchains applied to tourism" workshop imparted by Sismotur seeks to show the potential of this technology, which we are sure will contribute to a more efficient and competitive development of the tourism industry.
The last of the workshops will focus on "Design Thinking applied to creating a tourist product". To do this we will use a methodology based on co-creation through the design of thought processes, allowing us to arrive at the design of tourist products or services.
The workshops, which will be limited to 20 attendees and which require prior registration, have been designed according to highly practical work dynamics, allowing participants to gain the knowledge to implement in their tourism businesses everything they have learned.
All the information on SEGITTURLab is available on the SEGITTUR website, together with the online registration form.
eTN is a media partner for FITUR.