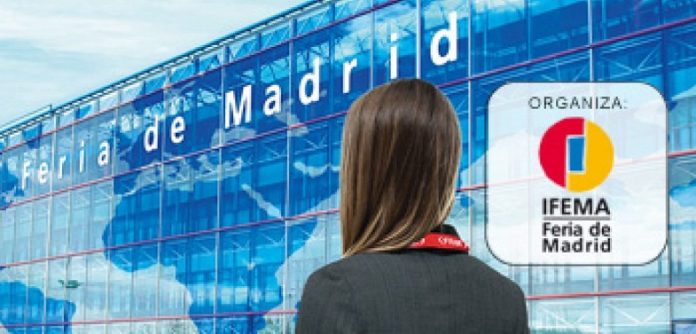 FITUR beats the record for participation in its most international edition yet
From 23 to 27 January, Madrid will once again become the focus of attention for the international tourism community with FITUR, the International Tourism Fair, organized by IFEMA. This year's event will be bigger than ever, both in terms of participation, in its international scope, and in its new content, in line with the industry's record growth, both in Spain and worldwide.
This year's edition will focus on sustainability, specialization and new technologies, features that are transforming the industry, and which will be the central theme of a strong offering aimed at improving tourism management, trade contacts, and the promotion of destinations and traveler experiences. All this comes together in a single platform, and at the beginning of the year, a key moment for defining strategies for the whole of 2019.
eTN Chatroom: Discuss with readers from around the world:
---
Also, this year's International Tourism Trade Fair takes place, in a context of worldwide growth for the industry. According to WTO figures, the world's destinations received 1000 million international tourists between January and September last year, a growth of 5% year-on-year. Spain welcomed 78.4 million foreign tourists in the first eleven months of 2018, with spending up 2.8% on the previous year, generating revenues of €84,811 million . Similarly, the continuing growth of Spain's outbound tourism is noteworthy, as evidenced by increased spending by Spanish tourists abroad, up 12.3% between January and October 2018.
FITUR 2019 in Figures
The favorable business conditions that these figures indicate will be well reflected in FITUR 2019, which this year will attract 886 main stand-holders, a growth of 8.3%, and 10,487 companies from 165 countries and regions.
The Spanish presence is up 6%, and international attendance, which already had a 55% share at FITUR, is up by 11%. And FITUR 2019 will have more than a dozen new additions, such as the official delegations from Djibouti, Finland, Ras al-Khaimah Emirate, and Sierra Leone, as well as exhibitors from the Cook Islands, the Former Yugoslav Republic of Macedonia, Pakistan, Papua New Guinea, French Polynesia, Serbia and Sweden. In participation by regions, the highest growth this year is by Africa (15%) and Europe (13%).
Overall, this edition will occupy 67,495 m², 2.5% more than last year, and this year will include Hall 2 to showcase Middle East destinations. This means that Hall 4 can now be dedicated to Europe, one of the regions that has grown the most. The other areas retain their usual configuration: America in Hall 3; Africa and Asia-Pacific in Hall 6; Companies, Technology and Global Business in Hall 8; Promotion Boards and Associations in Hall 10, and Spanish Official Bodies in halls 5, 7 and 9.
Based on current upbeat industry forecasts, FITUR 2019 expects to exceed last year's 251,000 attendees, itself a record number that included 140,120 trade visitors from around the world who came to the last edition. This has also motivated the expansion of the program for international buyers at FITUR, especially the MICE sector, with the new FITUR MITM – MICE & BUSINESS.
This growth will also boost the economic impact of FITUR on the city of Madrid, which is forecast to be over €325 million, with hotels fully booked and tourism-related businesses ready. Even just the FESTITUR program, which since 2015 has organized Noche Madrid (Night Madrid), forecasts that it will generate a turnover of €15 million, in the leisure, food and entertainment sectors.
Dominican Republic, FITUR Partner
The Dominican Republic is this year's Fitur Country Partner. This is a destination that has exhibited at FITUR since the first edition in 1981, and this year has the third largest official participation (by the National Office for Foreign Tourism), after Mexico and Portugal.
Tourism in the Dominican Republic has experienced continuous growth in recent years and is currently the leading destination in the Caribbean, with almost 6.6 million foreign visitors in 2018, according to figures from the Central Bank of the Dominican Republic. With the slogan "It has everything" the Dominican Republic's presence as FITUR country partner will give it a broad scope for joint activities in the main promotion and communication areas of the tourism industry's leading event and provides this Caribbean country with a major international showcase to promote itself as a destination.
The strong cultural, linguistic and historical links with Spain, as well as good business relations, make the Dominican Republic a destination with plenty of opportunities and continued growth for the tourism industry. This sector represents 60% to 70% of total Spanish investment in the island, which is forecast to grow over the coming years and positively impact the country's economy and tourism development.
Its exuberant natural environment, ecotourism, adventure activities, beaches to dream of, cruise tourism and golf, as well as good air connections, improved domestic surface transport, hotels and economic growth, make this Caribbean country a pioneer and an attractive destination for investment and tourism business. A destination that in 2017 was visited by 173,065 Spanish tourists.
NEW DEVELOPMENTS AT FITUR:
• FITURNEXT OBSERVATORY
With its vocation to innovate and provide value-added content for the international tourism community, FITUR has launched the FITUR NEXT Observatory. This initiative aims to identify future trends in tourism and highlight patterns and models in tourism that can be useful for the economic, social, cultural and environmental fields, and to provide a better experience for visitors and residents, develop destinations and maintain environmental stability by leveraging the large amount of information and initiatives that come together at the fair, and its impact on the world tourism industry. This project will run over the coming three years, and will seek to involve companies, organizations, destinations … in a global dialogue that will allow us to look ahead to the challenges of tourism, present and future.
FiturNext's advisory board includes: Liliana Arroyo, an expert in digital transformation and social impact (Spain); Adela Moreda, tourism specialist at the Inter-American Development Bank (IDB) (United States); Luis Ortega, Operations & Project Manager at Grupo Moraval (Madrid); Barry Roberts, president of the INBio National Institute of Biodiversity of Costa Rica (Costa Rica); Peter Rømer, director of the Rømer Agency, specialist in travel and tourism (Denmark); and Santiago Quiroga, Quality and CSR Manager at IFEMA (Spain). The FITURNEXT initiatives will be presented on 23 January at 11.30 (connection between Halls 2 and 4), in a workshop with presentations on the management of local problems (destination), environmental conservation (planet), community development (residents), and experience tourism (visitors), among other topics.
• B2B
Another of FITUR's themes is the program of B2B meetings, organized to encourage business contacts and exchanges. One of these is the Hosted Buyer Workshop which will include some 6000 appointments between 110 international buyers from 38 countries invited by FITUR and 350 participating exhibitors and co-exhibitors. In addition to these there are B2B activities in Investur, in the FITUR Health section, and new this year, FITUR MITM – MICE, co-organized with GSAR/MITM. The latter event expands the business opportunities for the tourism sector for Meetings, Incentives, Conferences, and Exhibitions (Mice) with a schedule of appointments between exhibitors and a selection of leading international managers (corporate, incentives organizers, event and conference organizers, and international associations). Overall, FITUR expects more than 7000 business meetings in this forum.
• Specialization
FITUR also continues to improve the quality of its offering by introducing new vertical markets that represent employment, business and growth for the tourism industry. This is the case of the new special-interest section, FITUR CINE/SCREEN TOURISM, organized in collaboration with the SPAIN FILM COMMISSION. It aims to bring the film industry and tourism together on a shared platform to promote destinations and location visits, and to show the potential of this rising trend.
A study published in April 2018 by TCI Research revealed that 80 million travelers choose their destination based on films and television series. This study showed that the number of people travelling to a destination after seeing it in a film or television series has doubled over the last five years.
FITUR CINE/SCREEN TOURISM will take place in Hall 2 with the participation of twelve Spanish agencies and the international presence of the Dominican Republic. There will also be a networking area and an area for talks and presentations in which international destinations and experts from New Zealand, New Mexico (USA), UK, Czech Republic and Ireland, among others, will take part in panel discussions about Screen Tourism as part of the tourism promotion strategies of these countries.
FITUR CINE Program
FITUR's growing specialization will also be reflected in the other sections that make up this year's offering, with special accent this year on FITUR FESTIVALS and the new cultural undertaking FITUR ES MÚSICA (Fitur is Music). The latter event is a festival of urban and alternative music organized in collaboration with Planet Events and Disorder, with media coverage from Radio 3 and Mondo Sonoro, held on Friday 25 and Saturday 26 January, in Hall 1 of Feria de Madrid.
FITUR IS MUSIC's staging will be at the same level as any other major festival, typical of large indoor concert venues like IFEMA. The 5400m² space will have a single stage, 18 meters wide and 14 meters deep, backed with more 80,000 watts of sound and 100 lighting fixtures for a spectacular show, and a LED screen bigger than 100m², all operated by a first-class technical team.
FITUR FESTIVALS will also present a section in Hall 3, organized in collaboration with the Association of Music Promoters (APM), showing the opportunities for growth and expansion that festivals can bring to the tourism business. And today the live music business is doing better than ever. In 2017, the industry increased revenues for the fourth consecutive year when 2016's take of €223.2 million rose to €269.2 million, even higher than in 2012. Part of the key to this success has been music tourism, especially around festivals, which has emerged as a headline tourist attraction. Spain's ten main festivals alone bring together almost 1.85 million people.
FITUR FESTIVALS will have an exhibition area and a stage for exhibitor companies to give presentations, and on which APM will organize four panel discussions addressing the challenges and opportunities of festival tourism.
This will also have a special interest program to show how new technologies can connect with our emotions in the FiturtechY 2019 section, organised in collaboration with the Hotel Industry Technology Institute (Instituto Tecnológico Hotelero, ITH). There will be a truly leading-edge event entitled "The Fifth Element: Technology," in Hall 10 on the 23, 24 and 25 January. There will be four simultaneous forums. They will focus on: tourist destinations in #techYdestino, future trends in the tourism sector in #techYfuturo business management in #techYnegocio, and sustainability in #techYsostenibilidad, all with technology as their common theme. The center of FiturtechY will be the place for the presentation of #techYhotel, in which trade visitors will be able to see and experience the use and implementation of new technologies and innovative tools in an hotel environment.
In addition to this, on 23, 24 and 25 January, the seventh edition of Fitur Know-How & Export, is organized by SEGITTUR and FITUR in collaboration with ICEX Spain Exports and Investments. On the 23, 24 and 25 January this will present a simulation of a smart tourist destination showcasing technologies involved in digital transformation. This section will have 40 exhibitor companies with innovative solutions for tourism in areas such as hotel management, strategic consulting, promotion, marketing, new products and services.
This will be the third year of SEGITTURLab, a laboratory for ideas with several practical workshops for business people and tourism technicians, and which will deal with topics such as "Chatbot for the Tourism Sector," "Applying artificial intelligence in the tourism business," "Women in technology and tourism," and "How to Turn a Telephone Booth into a 24-hour Information Office in a Sustainable Way".
To complete the offering there will be a program of Smart Talks analyzing different aspects of smart tourism and smart destinations, and a session to analyze the Sustainable Development Goals and how they apply to the tourism business, together with the Spanish Network of the United Nations Global Compact.
For the first time this year, FITUR GAY (LGBT) will feature the participation of New York City, Portugal and Thailand. On this occasion, with the slogan "Stonewall, New York, 50th Anniversary," this space, organized in collaboration with the consultant LGBT Diversity Consulting International, presents the most emblematic destinations of this tourism segment, its new developments and products. There will be different panel discussions, debates and presentations with the participation of sixty speakers and will have an extensive recreational program with musicals currently running in Madrid, DJs, singers and shows from around Spain.
FITUR SALUD (FITUR HEALTH), which as in previous years is being organized by the SPAINCARES cluster, highlights the growth of the international presence, in parallel with the development of global health tourism itself, with an average annual increase of 20% worldwide, and a turnover in Spain that already exceeds €500 million. FITUR SALUD will showcase the current health tourism offering in its exhibition area, and will have a B2B meeting area, a B2C space for free demonstrations for the general public, and sessions with talks and round tables focusing on the spa sector and international experiences, as well as panel discussions to analyze different international markets and their influence on the Spanish market.
INVESTUR 10th Edition
Also as part of FITUR, the 10th edition of the Forum for Investment and Tourist Business in Africa (INVESTOUR) will be jointly organized by UNWTO, Fitur and Casa África. This Forum aims to promote sustainable development in Africa, while encouraging a dialogue about investment and business opportunities in Africa. Its structure includes two sessions, one a program of panel discussions and another for business meetings (B2B) to put in African organizations in direct contact with potential tourism projects and international partners. A total of 55 African countries will take part; 384 participants and 47 projects from 15 countries will be presented.