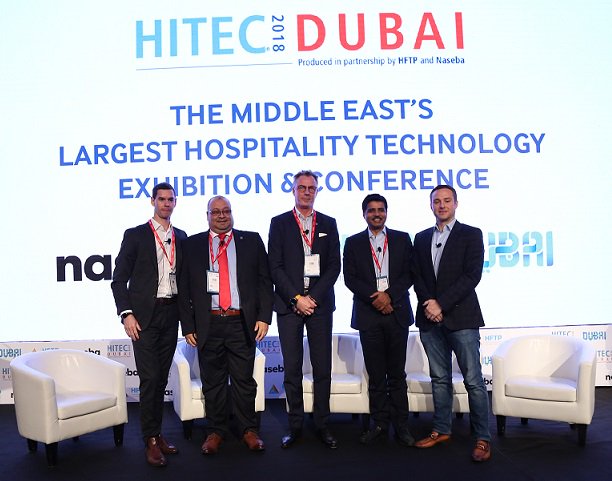 Experts discuss the future of hospitality industry driven by technology in Dubai
HITEC Dubai 2018, the Middle East's largest hospitality technology exhibition and conference, endorsed by Dubai Tourism and co-produced by Hospitality Financial and Technology Professionals (HFTP®) and Naseba, brought together industry experts to present ground-breaking regional and international case studies, thought provoking panel discussions and game-changing technology demonstrations. The two-day expo is being held at the Madinat Jumeirah Dubai from 5-6 December with an aim to facilitate knowledge sharing, networking and deal flow amongst hoteliers and hospitality technology providers.
Kicking off the proceedings today at the HITEC Dubai's global stage was a session on Futuristic Talk moderated by Nicholas Watson, CDO of Naseba. Participating on the panel was HITEC Dubai's Advisory Council Chairperson Laurent A. Voivenel, Senior Vice President, Operations and Development for the Middle East, Africa and India for Swiss-Belhotel International; Mahmoud Kamal, CIO, Habtoor Hospitality; Ajay Rathi, Group Sr. Director IT, MERAAS; and Lyle Worthington, Group CIO The Student Hotel.
Nicholas stated, "The future of the hospitality industry in the Middle East, like the rest of the world, is being shaped by unparalleled advances in technology. Hotels are compelled to rethink the hotel design, guest services, experiences and concepts in keeping with the travellers' expectations. Emerging technologies like virtual reality (VR), artificial intelligence (AI), robotics, blockchain, are all taking the first steps and it is interesting to hear from the experts in the industry on how they are embracing these innovations."
Commenting on the future of hospitality, Laurent stressed, "Innovations in hotel technologies are, no doubt, opening up new opportunities for optimizing guest experiences and enhancing operational excellence. However, the future of hospitality lies in having the right mix of technology and human touch. It is important to understand the existing ecosystem and adapt the best practices to boost efficiency and competitiveness as well as guest satisfaction. What is required is a structured approach to tap the great potential of technology. Like everything else, it is a two-way process and needs to have a conversation engaging customers to offer a personalized experience that makes travellers' lives easier, simpler & more convenient."
Speaking about automation, Mahmoud Kamal, CIO, Habtoor Hospitality, said, "Technology continues to transform the hospitality industry revolutionizing every aspect of the business. Having an integrated network of systems will enable hotels to build and foster the necessary connections for guests in order to cater to their requests and predict their needs. Currently, there is a great deal of work under way related to in-room automation to help bring the smart home concept of integrated and connected solutions into the hotel room."