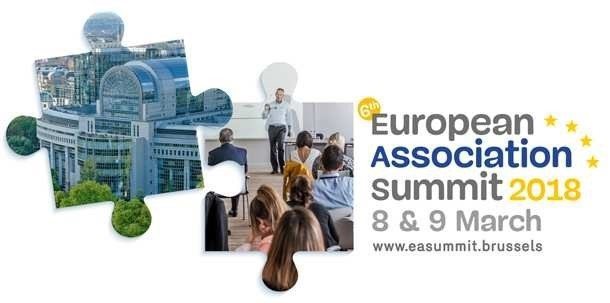 European Association Summit 2018: Brussels still number one choice for international associations
Welcoming 200 participants, the European Association Summit is still the biggest conference for Europe's associations. It is a key event for information exchange, knowledge sharing, networking and cooperation. More and more experts in the associations sector are joining the event.
Brussels has been hosting the European Association Summit for six years, organized by visit.brussels as an annual meeting point for associations. Experts from the association sector and professionals from different fields meet each year to share their experience and learn from their peers. The event is growing with every passing year and new partnerships are being formed. This year, the EAS is pleased to welcome the ICCA (International Congress and Convention Association) and the PCMA (Professional Convention Management Association) for the first time.
The 2018 Summit is being held at the Square, right in the heart of the capital. This is an opportunity to discuss best practice in professional engagement, collaboration and innovation.
Wealth lies in diversity
This year more than ever, the goal of this major gathering for the association sector is to encourage cooperation amongst associations based in Brussels, in Europe and across the world. The program for this summit comprises about 20 themed workshops and three plenary sessions. Based on real case studies, the summit will be gathering association representatives around the table to discuss a whole range of topics, such as organizing campaigns, relations between members and management in fields such as sport, nanotechnology, medicine and culture.
The President of the European Committee of the Regions, Karl-Heinz Lambertz, will tackle the topic of collaboration, which is essential for associations. Examples from other parts of the world will also be presented in a plenary session focusing on the international activities of the associations.
This European Association Summit is also an opportunity to celebrate the 60th anniversary of the Square Conference Centre with an international and intercontinental audience.
A new summit crowned with success
The Chairwoman of the 2018 EAS, Małgosia Bartosik, is proud to say that: "This year's EAS is a great success, thanks to the broad scope and superior quality of the event. I am delighted to see so many great professionals from the association sector meet in Brussels. It clearly shows how important it is to us to exchange ideas with our peers to improve the performance of our associations."-
The EAS would like to thank its partners, international (ESAE, ICCA, PCMA, UIA) and local (FAIB), as well as players in the private sector, for their support.
The next EAS will take place early March 2019 in Brussels.