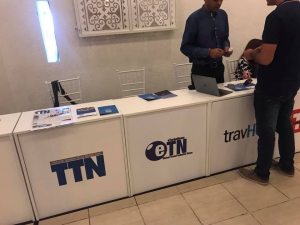 Day 1 of TTM pre-scheduled meetings concludes with over 200 visitors
The largest tourism travel fair held in the Maldives, Travel Trade Maldives (TTM) concludes the first day of pre-scheduled meetings. More than 200 visitors from across the globe visited TTM today during the hours of 2pm and 6 pm. More than 100 hoteliers are exhibiting at TTM 2018, including Adaaran Resorts, Villa Hotels & Resorts, Bandos Maldives, Angiri Resorts and Crown & Champa Resorts as premium exhibitors.
Day 1 of pre-scheduled meetings successfully concluded with business contracts being discussed between hoteliers and visiting agents. This year, the prescheduled meetings is being held for three days, unlike the previous year's TTM, which featured only two days of prescheduled meetings. Both exhibitors, and visitors alike were very pleased with the outcome, considering today was the first day of TTM 2018.
Dharubaaruge Dhoshimeyna Maalam was packed within the four hours of pre-scheduled meetings; it was a full house all throughout the first day. TTM gave participants a platform where industry professionals are provided with the opportunity to meet and interact with globally renowned travel agents and tour operates and allows them to grow their businesses within one of the most lucrative and leading travel destinations in the world, the Maldives.
Many travel agents were newcomers to the Maldives and were very pleased to have had the opportunity to visit the island destination and have had the opportunity to meet with the leading hoteliers in the industry in one setting.
TTM is an amalgamation of several components. This year's TTM features a brand-new component, targeted solely towards the suppliers' side of the industry, Maldives Supplier Expo. This is the very first expo of it's kind, where several key decision makers from the resorts, including Head Chefs, Purchasing Managers, Director of Finance, Procurement Managers and Directors of Engineering will have the opportunity to network with leading suppliers, locally as well as internationally. In addition, TTM will be hosting the Gala Night Dinner at Adaaran Select Hudhuranfushi, allowing a more relaxed setting outside of the normal corporate offices where industry professionals will be able to network and share their experiences with other professionals.
Both local and international sponsors contributed to the success of TTM. Gold Partners for the event are Ooredoo Maldives, Allied Insurance, Al Shaali Marine and Fuel Supply Maldives. M7 Print, Laniakea Tech, State Trading Organization and Linkserve joined as Silver Partners. Lastly, TTM is covered by both local and international media. Locally, AVAS media, PSM, Maldives Insider and Corporate Maldives, while TTG Asia, TravHQ, TTN, TTJ, eTN and World of Tourism covered the event internationally.
eTurboNews Publisher Juergen Steinmetz was in Male showing the eTN Flag at the eTurboNews desk.