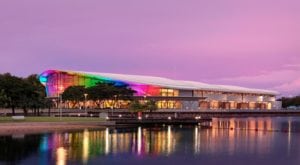 Darwin Convention Center has two reasons to celebrate
The Darwin Convention Center in Australia has a reason to celebrate today.
The CVB in Darwin celebrates 10 years of operation.
A combination of international, national, and regional conferences held at the Convention Centre from July to November attracted a record number of 9,000 delegates, Harvey Lister, Chairman and CEO of AEG Ogden, Geoff Donaghy, Director of Convention Centres of AEG Ogden and Janet Hamilton, General Manager of Darwin Convention Centre celebrated the milestone with an event recognising the partnership between global venue manager AEG Ogden, Honeywell, AMP Capital and the NT Government Darwin Waterfront Corporation as well as the organisations and individuals who have had an impact over the past ten years.
Construction began in early 2006 and the centre was officially opened on June 18, 2008. The convention centre is now an integral part of Darwin, economically and socially.
The centre injects millions of dollars a year into the economy and rhe centre has hosted some of the Northern Territory's biggest events from international and national conferences attended by thousands of delegates to bull riding championships, from charity fundraising balls to rock concerts. Guests have included dignitaries as diverse as the Dalai Lama and Chinese president Xi Jinping.
In the past 10 years, events held at the centre have attracted national and international delegates to Darwin generating more than $350 million in delegate spend and also broader economic benefits in the local economy. This includes increased business for hotels, restaurants and tourism operators in the region.
The centre hosts hundreds of events a year, including an increasing number of major national and international conferences.
Beyond the economic benefit, conferences attract the best people in their field to meet in Darwin. Darwin Convention Centre General Manager, Janet Hamilton said the importance of sharing knowledge and supporting innovative thinking are key outcomes we want all conferences to be able to achieve. Darwin provides a great opportunity to escape from daily routines and experience a new destination that is not only rich in culture but important in the development of many key industry sectors.
Over 680,000 people have attended events at the Darwin Convention Centre since the doors opened 10 years ago.
"It's been a fantastic 10 years," said Janet Hamilton. "All of the employees who have worked at the centre over the last ten years have worked very hard to create a world-class convention centre and to maintain the highest standards."
The hard work has paid off.
The Darwin Convention Centre has been confirmed as one of 20 finalists in the 2018 edition of the globally recognised AIPC Apex Award competition for "Best Client Rated Convention Centre". This prestigious Award, which has been maintained by the International Association of Convention Centre (AIPC) for over 20 years, owes its prominence to the fact that competitors are rated entirely on the basis of client ratings as assessed by the global market research company Ipsos.
"The AIPC Apex Award has a long and highly respected history in the meetings market which means the winner gains a great deal of respect from peers and leverage in the market, said AIPC President Aloysius Arlando. "This of course translates into better business prospects – but experience has shown that it doesn't end there. It is also a source of pride amongst staff and a boost in community appreciation, both of which are also of great benefit to a centre, and that's why being a finalist is in itself a real accomplishment".
Arlando noted that for 2018 Ipsos has surveyed over 1843 client references put forward by participating centres – a significant sample that illustrates the comprehensive nature of client polling. "This means that we are talking about a very strong basis for the evaluation of competitors, and again, the reason for the credibility of this award".
The final determination of the Apex Award winner will be made in advance of its presentation at the 2018 AIPC Annual Conference in London in early July. "The Apex Award is a crowning achievement, which is why it is so intensely contested and comprehensively judged", said Arlando.
AIPC is an association comprising over 185 international convention centres in some 60 countries world-wide. Its mission is to encourage, support and recognize excellence in convention centre management and to maintain a range of programming that addresses this mission.
Related
yahoo