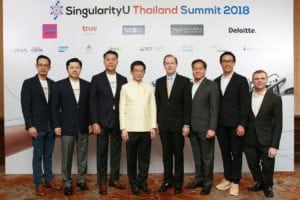 Southeast Asia's First: SingularityU Thailand Summit at the Interconti Bangkok
Singularity University (SU), a Silicon Valley based global community of thinkers and innovators, focusing on empowering leaders to transform industries and solving global challenges through exponential technologies, holds its first summit in Southeast Asia (SEA). The SingularityU Thailand Summit 2018 is held at the InterContinental Bangkok from 19th to 20th June, 2018.
SingularityU Thailand Summit 2018 is among the first series of events and initiatives from Exponential Social Enterprise Co., Ltd., an organization that is aiming to speed up Thailand's potential for growth beyond existing economic models and social development. The aim is to inspire change by exposing new questions about the impact of innovation on productivity, talent, industries and public policy. The summit concentrates on how fundamental changes in thinking affect broader implications of technological advancements, and how the integrated impact of these transitions can transform everything around us.
The summit sees government officials and top industrial executives joining together to listen to world leading exponential technology experts about current technological achievements and potential future solutions. The visitors can expect topics such as: Artificial Intelligence (AI), The Future of Digital Health and Medicine, The Future of Energy, Cybersecurity, Blockchain, Finance of Tomorrow and Global Grand Challenges. Participants of the summit can join workshops by speakers from Deloitte and The Alchemy of Creativity, concentrating in creativity and future of work. The summit provides possibilities for networking and discussion between professionals from different industries that can potentially create further associations in terms of technological and social development.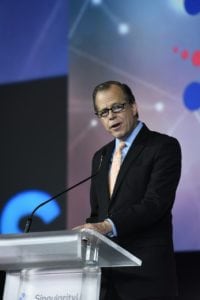 H.E. Glyn T. Davies, U.S. Ambassador to Thailand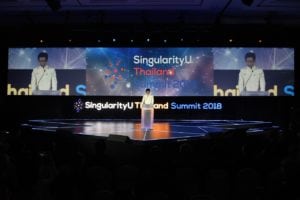 Dr. Kobsak Pootrakool, Minister Attached to the Prime Minister's Office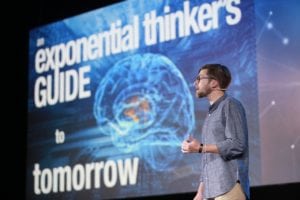 Jeffrey Rogers, Director of Faculty Development at Singularity University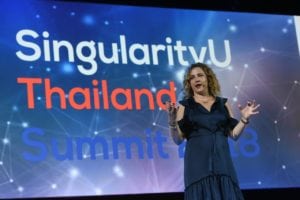 Jeffrey Rogers, Director of Faculty Development at Singularity University
Dr. John Leslie Millar, the Head of Exponential Social Enterprise Co., Ltd., said: "The first ever SingularityU Summit in Southeast Asia, our current spearhead of the series in events, had attracted the regions innovation leaders to join the discussion about the initiatives that can foster innovation in various industries in Southeast Asia. Exponential technologies have been continually affecting our daily lives. Since the emergence of internet connectivity, the availability of affordable smartphones, and the growing community of innovators and developers, we are already living in the exponential age. While countries in Southeast Asia, including Thailand, might not have been at the world's forefront of innovation and technology, providing the right tools and awareness about exponential technologies can spark new innovations and communities of thinkers that could likely spread to the whole region. Furthermore, as the hub of applied technologies, Southeast Asia has great potential in helping the global development and sustainability. But the first step we hope as a result of this event is to spark the conversation about the importance of exponential growth within the region, and this event had shown a promising future for the community of leaders to further push the agenda to their respective fields and among themselves"
Peter Diamandis, the Co-founder and Chairman of Singularity University said: "People have no idea how fast things are changing. Things are accelerating and moving forward with high speed and it is important for the leaders of the world's industries to keep up with the new technological achievements and continuously changing world. Tomorrow's speed of change will make today look like we are crawling. This is why we say that the technological achievements will keep on developing in exponential speed."
From the speakers of SingularityU Thailand Summit:
Mandy Simpson, the Chief Executive of consultancy Cyber Toa said: "You have probably heard about blockchain, but it's not just about Bitcoin. The blockchain could change every transaction you can think of." Blockchain is incorruptible ledger of blocks of data that can basically keep records of just about anything. Thai banks are currently joining forces to create the Thailand Blockchain Community Initiative.
Vivienne Ming, the Co-founder of Socos Labs said: "We already know that artificial intelligence (AI) will be able to replace specific human skills. If there's enough data about a process or task, someone like me could build an AI tool to do tasks faster, cheaper, and better than a person. AI is changing the way we run our businesses, so it is interesting to see how it develops in the near future." At the moment, AI in Thailand is moving forward at full speed.
Exponential Social Enterprise Co., Ltd., with Singularity University are showing appreciation for the support of leading Thai and international organizations including Ananda Development, SCB, True Corporation, Muang Thai Life Assurance, Deloitte, National Innovation Agency (NIA), Startup Thailand, the Stock Exchange of Thailand (SET), Young Presidents' Organization (YPO) Thailand chapter, the Digital Economy Promotion Agency (DEPA), SAP, Cisco, Mitsuri Fudosan Asia (Thailand), and, Singha Ventures.
Examples of speakers include:
David Roberts, Distinguished Faculty of Innovation and Disruption, Singularity University and one of the world's top experts on technology disruption, innovation, and exponential leadership.
John Hagel, Founder and co-chairman of Deloitte LLP's Center for the Edge.
Dr. Daniel Kraft, Founding Executive Director & Chair, Exponential Medicine, Singularity University and a Stanford and Harvard trained physician-scientist, inventor, entrepreneur, and innovator.
Dr. Vivienne Ming, Faculty, Cognitive Neuroscience, Singularity University and a theoretical neuroscientist, technologist and entrepreneur.
Ramez Naam, Chair, Energy & Environmental Systems, Singularity University and a computer scientist, futurist, and award-winning author.
Mandy Simpson, Faculty, Information Security and Blockchain, Cryptocurrencies, Singularity University and a Chief Executive at Wellington based consultancy Cyber Toa.
Nathaniel Calhoun, Chair, Global Grand Challenges, Singularity University.
Visit http://www.singularityuthailandsummit.org/ for more information on SingularityU Thailand Summit. Stay tuned for the next events of Exponential Social Enterprise that are aimed to push forward Thailand's potential for growth beyond the existing economic models and social development.
Related
yahoo