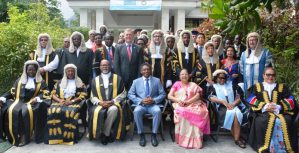 Commonwealth Conference of Speakers in Seychelles
In Patrick Pillay, the Speaker of the Seychelles National Assembly, hosted the 24th Commonwealth Conference of Speakers in Seychelles at the Savoy Resort & Spa from January 8-13. Participants of this Conference included fifty speakers, 43 clerks and presiding officers from different national parliaments of Commonwealth countries.
The aim of such a conference, which is held every two years, is to maintain, foster and encourage impartiality and fairness on the part of the speakers and presiding officers, promote knowledge and understanding of parliamentary democracy in its various forms, as well as develop parliamentary institutions.
Speaker Pillay, while welcoming the delegates and guests, called on them to also avail of the opportunity to discover Seychelles and its proud people, the Seychellois Creoles, and appreciate our culture and diversity. Presenting them with a small card containing photos and a short resume about each of the 33 members of parliament, Speaker Pillay remarked: "When you go through this card you will see what I mean when I say that we Creoles look beyond colour, beyond ethnicity and we are proud of our language," he said.
On another note, Speaker Pillay stressed on the importance for a small Nation like Seychelles, with its equally small parliament of only 33 members, to organise such a big conference.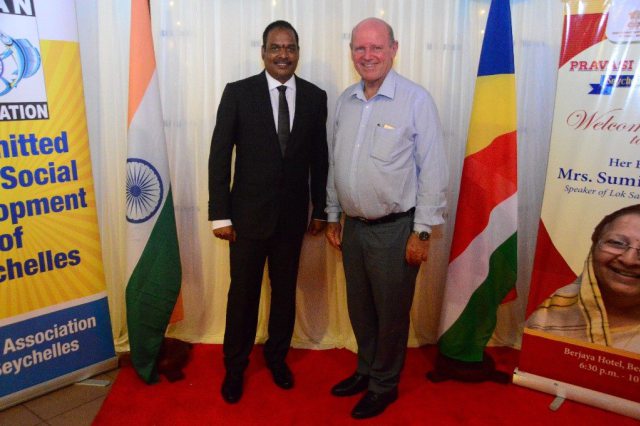 "Other than providing an opportunity to exchange views and ideas, hosting so many speakers, deputy speakers and presiding officers from over 50 countries, is a great achievement for a small country with less than 100,000 people. The opportunity for exposure and visibility for our country in terms of tourism promotion and investment development potentials is great," Speaker Pillay pointed out.
"As an Assembly, such an important conference provides us with a vast opportunity to develop and build on partnerships with other parliaments," Speaker Pillay added.
As an example he highlighted the importance of bilateral talks he would be having with Hon. Sumitra Mahajan, Speaker of the Lok Sabha, the Indian Parliament and with the Speaker of the House of Representatives of Australia Hon. Anthony Smith.
"India is helping us immensely in our development as a parliament and we will have the opportunity to explore other areas where support could be provided to take our small parliament to another level," added Speaker Pillay.
He said talks with Speaker Anthony will also look at different areas where the Australian parliament can help us develop our small parliament for example in such areas like training in parliamentary reporting, IT technicians, among others.
It was President Danny Faure who opened the 24th Commonwealth Conference of Speakers. The Seychelles President said:- "Connecting Parliament with the public; engaging citizens; remaining accountable, open and transparent; and keeping the institution relevant are critical issues to discuss in the 21st Century. All arms of Government – the Executive, the Judiciary and the Legislature – and the House and its members – need to be mindful of these responsibilities if they are to uphold our democratic tradition".
Different Speakers present in Seychelles were also able to catch up with interested groups and communities. A few people with connections to Australia met with Hon Anthony Smith, the Australian Speaker at "La Perle Noir" Restaurant at Beau Vallon.
The Indian Association of Seychelles also hosted a dinner function at Berjaya Beau Vallon Bay Hotel & Casino for Hon. Sumitra Mahajan, Speaker of the Lok Sabha, the Indian Parliament. In the presence of Vice President Vincent Meriton and Mrs Meriton, Minister Jean Paul Adam and Mrs Adam, Minister Peter Larose, Minister Jeanne Simeon, former Minister Alain St.Ange, Dr Ausaf Sayeed, the High Commissioner of India and a large number of the Seychellois Indian Community Hon. Sumitra Mahajan, Speaker of the Lok Sabha, the Indian Parliament addressed all present before joining V.P. Meriton in honouring some of the pioneers of the local Indian Community.
The Indian Association of Seychelles staged a great dinner event, and it was a pleasing sight to see the large number of Seychellois Indians gathered for the occasion. The Berjaya Beau Vallon Bay Hotel and Casino spared no effort to cater a superb buffet with Indian delicacies that were appreciated by the Honourable Speaker and all dignitaries present.