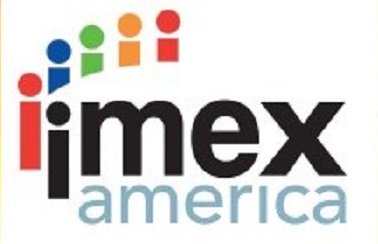 Business deals, professional skills & inspiring education power up first day of IMEX America
"My first appointment today was with a US association who I met at a previous IMEX America and have been talking to about an incentive trip to Dublin. After our meeting here at the show I'm confident we're 99.9%" of the way towards to signing a deal." Sam Johnston, manager of Dublin Convention Bureau, is one of many exhibitors who are confirming business as well as discussing RFPs face to face with buyers from across the world at IMEX America, currently taking place in Las Vegas.
The first day of the show got off to a strong, business-led start with the meeting and event industry's decision makers meeting with suppliers from every sector ranging from global tourist offices and convention bureaus, major hotel companies, conference and exhibition centers, cruise lines, airlines, spa resorts, technology providers, event management specialists and many more.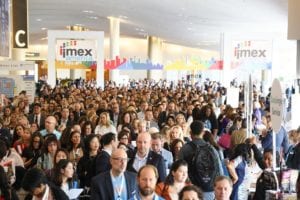 Crowds at the start of IMEX America
William McBroom, director of conference sales at St. Augustine, Ponte Vedra and The Beaches Visitors & Convention Bureau, explains: "The opportunity to meet clients face to face and generate new business is ultimately what brings me here. Put simply a significant amount of planners attend the show and being at the show enables me to meet them!"
Alongside the many business appointments and networking across the show floor there is a comprehensive program of education equipping attendees with the latest learnings to improve their business performance.
Driving diversity to deliver business success
In her MPI keynote How to work with and lead people not like you, Kelly McDonald shared her top tips on how to work effectively with different people, explaining how it can ultimately boost productivity and results.
As the workplace becomes more global – people now travel more and many work in a different city, even country, from where they were brought up – so has the workforce become more diverse. Any conflict or difficulties that arise can be overcome, advises Kelly, using a smarter communication, empathy and common ground.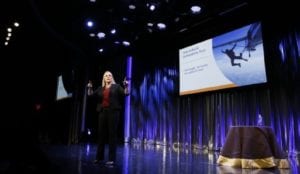 MPI keynote Kelly McDonald
Kelly explains: "Association planners work with the board and wider membership base. Corporate planners work with stakeholders, investors and customers. Both work with suppliers and vendors.
This amounts to a wide range of people, backgrounds, opinions and personalities – and that can be of real business benefit!"
Her advice on how to navigate interactions with people resonated both personally and professionally with the audience as Tina Kouchinsky, senior director of MKTG, explains: "These simple but effective steps will work for me in all areas of my life. Kelly's advice on communication techniques with colleagues and even family was especially relevant– in fact, it was almost as if she had set up a camera in my home!"
The latest learnings – in hot demand
The comprehensive program of over 250 education sessions at the show (95% of them CE points certified) has been designed to tap into current industry developments and trends to deliver real business benefits. Sessions focus on topics including business skills, marketing, sustainability, technology and trends – all key areas of focus for buyers as Amanda Vaz from Boston Scientific explains: "Education is a real priority for me – I rarely have time to top up my learning during busy days at work, so I set aside time in my schedule during this show to hone in on the sessions relevant for me, such as trends, legal issues and business skills."
Sessions taking place today included The secrets to mastering your events industry career, Fostering a creative culture in the workplace and On trend: sponsorships of the future detailing how to create and sell imaginative sponsorship packages now that many corporate marketers have increased their investment in experiential events.
Exciting experiential elements
The power of experiential as a tool to grow engagement, connections and knowledge sharing is one that comes to life at the show in the Live Zone. This busy, lively area is home to a host of live entertainment acts – magicians, painters, musicians, photographers, and even a giant shoe of champagne! "I'm increasingly looking into experiential activities that deliver the wow factor –whether it's engaging audiences during the event or offering them a simple souvenir – such as a fun photo- to take away with them. These booths are really inspiring," says Eva Deschryver a buyer from Porta Mundi, Belgium.
eTN is a media partner for IMEX.