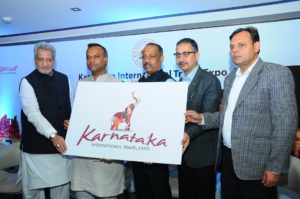 Bangalore International Exhibition Center to host largest B2B travel event in India
The 'Govternment of Karnataka – Department of Tourism' announces 'Karnataka International Travel Expo' from the 28th February – 2nd March 2018 to be held at the Bangalore International Exhibition Center (BIEC). The inaugural expo is the largest B2B travel event in India. A platform of over 400 registered buyers and media from over 25 countries seek to further enhance the tourism sector.
The three-day event will attract over 1,000 delegates facilitating over 10,000 pre-matched appointments to bring together International Buyers and sellers for face-to-face meetings, education forums and networking.
Shri Priyank Kharge, Minister for Tourism, IT & BT, Govt. of Karnataka said "Karnataka is home to a large and exciting portfolio of globally acclaimed tourism products with UNESCO World Heritage Sites, splendid wildlife and resplendent nature, virgin beaches to adorn. 'Karnataka International Travel Expo', being held for the first time, will provide the impetus to the inbound travel and tourism and would enhance the marketing efforts of Karnataka Tourism to promote our destinations to the travel-trade from all over the world".
The chief goal of the expo is to increase the overall size of the tourism sector. the event is expected to gather and international professionals looking to find new ways to further Karnataka as an ideal destination. Trade and hospitality associations including the Association of Domestic Tour Operators Association of India (ADTOI), Adventure Tour Operators Association of India (ATOAI), India Association of Tour Operators (IATO), TAAI, FKCCI, FHRAI, Karnataka Tourism Forum etc are among the many that support the event.
The event will also feature an exclusive Karnataka Pavilion: Destination Karnataka: "Karnataka with its diverse range of products is fast emerging as one of the most interesting and productive states for the travel-trade industry both for leisure and business travel. A globalized one-stop sourcing platform is vital for stakeholders within the tourism industry to effectively reach out to the Karnataka travel market" said Secretary – Tourism, Govt. of Karnataka Mr. TK Anil Kumar.
This gathering promise to be a unique opportunity to explore the sector which desperately needs a constant networking platform. 'Karnataka International Travel Expo' aims at bringing together this network to develop business in this sector. For information – log on www.karnatakatravelexpo.com
Key Features:
• Biggest Hosted Buyer Travel-Event in the country.
• Online Appointment Scheduling between Buyers & Sellers – Over 12,000 B2B Appointments
• Over 15 different tourism segments: Adventure & Wildlife, Business Travel and Hotels, Pilgrimages, Festivals of Karnataka, World Heritage Sites, Conference and Meetings, et
• Extensive Marketing and branding
• Post Event Familiarization tours
• Networking and Renewing contact