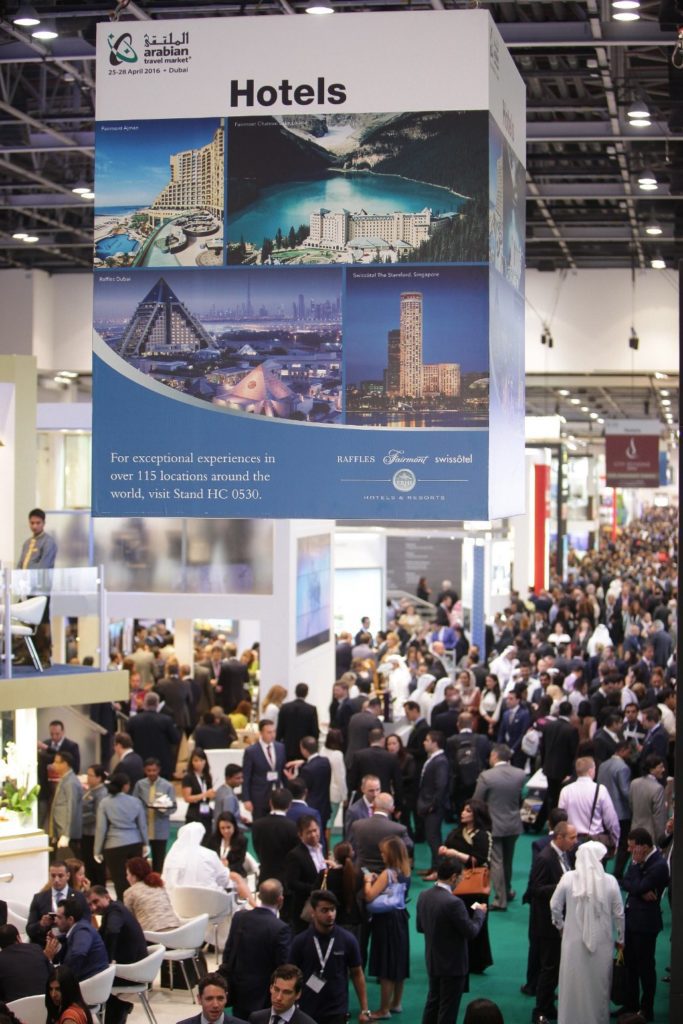 ATM to showcase largest ever hotel exhibition space as GCC boasts 152,551 room pipeline
Hotels will comprise 20% of the total show area at Arabian Travel Market 2018, the largest exhibition of regional and global hotel brands in the history of ATM.
Taking place at Dubai World Trade Centre from April 22-25, ATM 2018 will feature 68 main hotel stand exhibitors, including eight new brands, over an area of more than 5,000 sqm, in addition to over 100 Middle East hotels featured alongside their respective national tourism organisations.
Simon Press, Senior Exhibition Director, ATM said: "Arabian Travel Market continues to be the preferred route to market for many international and regional hospitality brands and the increase in hotel exhibition space in 2018 reflects the hundreds of new property and brand launches we have seen during the last 12 months.
"Over the coming years we will see these new properties prosper as millions more tourists visit the region for the first time. The last 12 months brought unprecedented developments in major markets and the region is poised for further great developments in 2018," he added.
The largest stands will feature A.A.Al Moosa Enterprises UAE, owners of hotels operated by Hilton, Starwood, Marriott, Taj and Wyndham; Intercontinental Hotel Group; and the Middle East's newest hotel group, Roda Hotels. They will operate stands covering 185sqm, 120sqm and 100sqm, respectively.
Celebrating its 25th edition in 2018, ATM will also welcome some of the brands that were present at the first show, back in 1994. Including Abjar Hotels International, Abu Dhabi National Hotels Forte Group, Holiday Inn Hotels & Resorts, Marriott International, Sheraton Hotels & Resorts and Taj Hotels.
As stakeholders in the regional hospitality industry, each brand has contributed to the GCC's phenomenal rate of growth, which is driven currently by the UAE, Saudi Arabia and Oman.
Data from STR confirms the total pipeline of rooms in the GCC currently stands at 152,551 across 518 properties. The leading contributors are the UAE with 73,981 rooms in the pipeline; Saudi Arabia with 64,015; and Oman with 8,823. In percentage terms the largest increase on existing stock will be seen in Saudi Arabia, which is on track to witness 123.7% growth.
In terms of market growth, research published by Colliers International ahead of ATM indicates the hospitality market in Saudi Arabia will grow at a Compound Annual Growth Rate (CAGR) of 13.5% to 2022, ahead of that of the UAE (10.1%) and Oman (11.8%).
The growth expected across the GCC and Middle East will bring billions of dollars in opportunities for the region's key players. Helping them navigate the investment landscape, ATM has partnered with IHIF (International Hotel Investment Forum) organisers to deliver the inaugural Destination Investment Forum, which will take place on the Global Stage.
Discussion will cover investment drivers across the region's top travel destinations with focus on who is investing, what assets they are looking for, and how destinations can attract investment.
Press said: "Providing key intelligence, insight and advice, the Destination Investment Forum is the next step in pairing owners and investors with operators highlighting the opportunities that will drive the next era of hospitality in the region. The event will outline opportunities for private sector investors as well as providing a forum to ensure regional strategies for future development are aligned.
"A natural evolution of the core concept of Arabian Travel Market, our 25th event is the opportune time to introduce this exciting new addition to what is now a bumper edition of ATM," he added.
ATM 2018 has adopted Responsible Tourism – including sustainable travel trends – as its main theme and this will be integrated across all show verticals and activities, including advice clinics and focused seminar sessions, featuring dedicated exhibitor participation. Running throughout the event, professionals from across the industry will demonstrate how, with the correct strategy in place, the tourism industry can expand its responsible credentials.
In celebrations of its 25th year, this year's show will host a series of seminar sessions looking back on the tourism revolution in the MENA region over the last quarter of a century, while exploring how the industry will shape up over the next 25 years, in light of geopolitical tensions, economic uncertainties, huge technological advances and, of course, the increasing trend of responsible tourism.
Debuting at this year's event will be the ATM Student Conference – 'Career in Travel' – a programme aimed at students and graduates. Taking place on the final day of ATM, this programme will allow students to listen to guest speakers and travel industry leaders. It will also help provide a greater understanding of the industry and potential career paths.
Following a successful launch last year, the second edition of the International Luxury Travel Market Arabia (ILTM) will return on the first two days of the show. International luxury suppliers and key luxury buyers will connect via one-to-one pre-scheduled appointments and networking opportunities.
Other popular features returning to the show repertoire this year include the ultra-innovative Travel Tech Show, Wellness and Spa Lounge and the Travel Agent Academy as well as the Digital Influencer Speed Networking and the Buyers' Club.
The ATM Best Stand Awards are back for a fourth year and will see a line-up of top judges and visitors to the annual industry event acknowledge the design, creativity and positioning of exhibiting companies' physical presence at the annual showcase.
ATM – considered by industry professionals as a barometer for the Middle East and North Africa tourism sector, welcomed over 39,000 people to its 2017 event, including 2,661 exhibiting companies, signing business deals worth more than $2.5 billion over the four days.
ENDS
About Arabian Travel Market (ATM) is the leading, international travel and tourism event in the Middle East for inbound and outbound tourism professionals. ATM 2017 attracted almost 40,000 industry professionals, agreeing deals worth US$2.5bn over the four days. The 24th edition of ATM showcased over 2,500 exhibiting companies across 12 halls at Dubai World Trade Centre, making it the largest ATM in its 24-year history. www.arabiantravelmarketwtm.com Next event 22-25 April 2018 – Dubai.