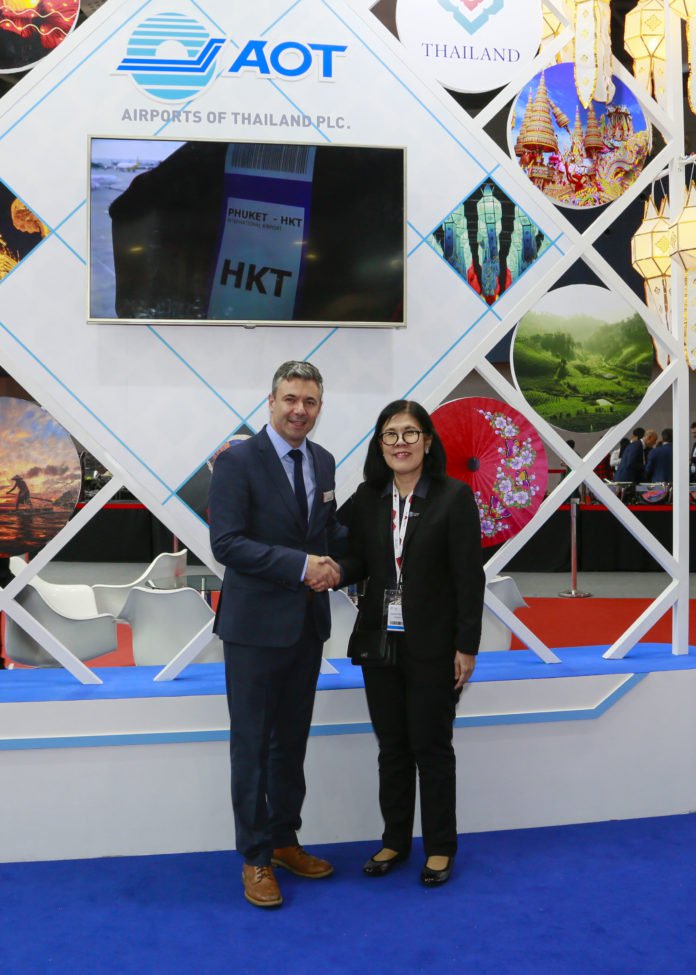 Airports of Thailand to host Routes Asia 2020
It was announced today at World Routes in Guangzhou, China, that the host of Routes Asia 2020 will be Airports of Thailand Plc (AOT)., with the event taking place in the cultural city of Chiang Mai.
Routes Asia will head to Thailand when the event takes place in the historic city of Chiang Mai in spring 2020 (date yet to be confirmed). The announcement came following a meeting between Supak Phuangvarapun, Vice President of Business Development and Marketing at AOT and Steven Small, Brand Director of Routes.
AOT own 6 international airports and previously hosted Routes Asia in 2006 in Pattaya. Thailand's plan for the future of its aviation industry is based around a masterplan, which incorporates the streamlining of air transport strategies with enhancing the effectiveness of capacity expansion at airports as well as air traffic. The ultimate intention is for Thailand to become an aviation hub for all of South East Asia.
Supak Phuangvarapun, Vice President of Business Development and Marketing at AOT, said: "We believe that hosting this event will have a great impact not only for AOT, but on Thailand's economy overall. Air transport is one of the most powerful means of regional economic developments, and Routes events are where the world's network planners meet to discuss future air services.
"Hosting this event also gives us the chance to show delegates one of Thailand's most frequented destinations, where the natural beauty and our good economy combine to make Chiang Mai and important destination and international hub."
Steven Small, Brand Director of Routes, added: "We are excited to be supporting AOT with their goal of growing Chiang Mai as an international hub and we are delighted to be taking this event back to Thailand.
"AOT did a fantastic job when they hosted in Pattaya previously and I'm sure this event will be every bit as enjoyable and successful as the last one."
The city of Chiang Mai is 700km north of Bangkok, in the very north of the country and receives 10 million visitors a year. One of Thailand's most distinctive cities, it is known for its numerous Buddhist temples and as the home of the ancient Lanna culture.
The event will be held at the city's impressive convention centre, the newest in Thailand, and the hosts have promised that this combined with the exceptional delegate tours on offer mean that Chiang Mai promises to be an unforgettable location and Routes Asia 2020 will be a memorable event.