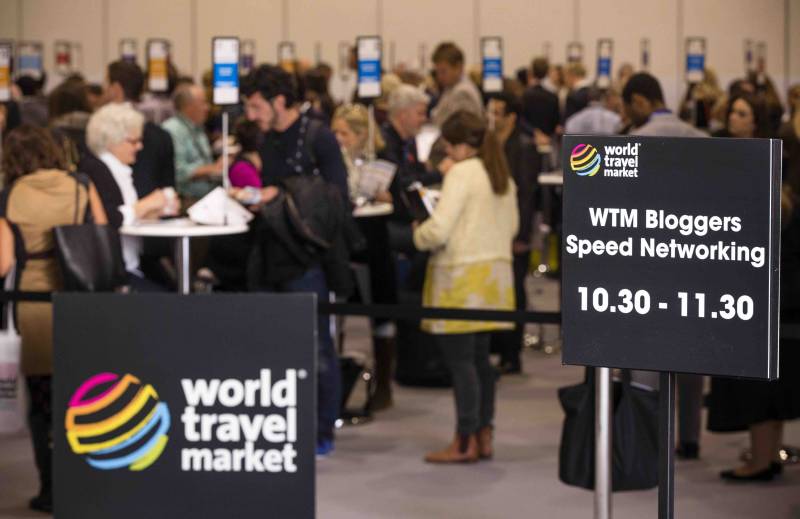 WTM London: Pre Opening Speed Networking
All three day of WTM London 2018 – the event where ideas arrive – will kick off with a Speed Networking session before the exhibition floor opens – expanding the opportunity for business to be conducted across the event.
The first day of WTM London – Monday 5 November – will start with the traditional regional speed networking event, with more than 200 buyers taking tables split by exhibition floor geographies they purchase. In 2017, around 1,000 exhibitor personal attended the Monday morning speed networking session.
Tuesday 6 November sees a sector-specific speed networking event, with niches including responsible tourism, food tourism, adventure tourism and wedding and honeymoons covered. Buyers will be seated based on the sectors they purchase.
To attend the two buyer speed networking sessions exhibitors will have to purchase tickets at a cost of £125. The ticket is a company ticket and can be transferred between company representatives. Tickets need to be allocated to company personnel in advanced of both sessions. Tickets can be purchased via the Exhibitor Portal on the WTM website.
In 2017, exhibitors purchased tickets for £250 for access to the first 30 minutes of both sessions.
The WTM Buyers' Speed Networking event and the WTM Buyers' Club are sponsored by ENIT – the Italian Tourist Board.
The final day of WTM London – Wednesday 7 November – sees the highly successful WTM Digital Influencers' Speed Networking return for its fifth year. The event, sponsored by Turkish Culture and Tourism Office, will see 120 leading digital influencers discuss how they can help promote exhibitors' destinations and products to their legions of loyal followers.
All three events will take place before the exhibition floor opens at 9am at the Networking Area AS900, giving exhibitors an extra hour to discuss and conclude business deals at WTM London. WTM London facilitates almost £3.1 billion in industry deals.
WTM London, Senior Director, Simon Press, said: "Speed Networking has proved incredibly popular since we first launched it at WTM London back in 2010 that we have continued to expand the programme."
"WTM London offers three speed networking events before the exhibition floor opens on each day, expanding the opportunities for exhibitors to negotiate and conclude business deals at the event.
"WTM London 2017 generated almost £3.1 billion in industry deals and this year it's expected to facilitate a record value of business for the travel and tourism industry."
-ends-
About World Travel Market
World Travel Market (WTM) portfolio comprises six leading B2B events across four continents, generating more than $7 billion of industry deals. The events are:
WTM London, the leading global event for the travel industry, is the must-attend three-day exhibition for the worldwide travel and tourism industry. About 50,000 senior travel industry professionals, government ministers and international media visit ExCeL London every November, generating about £3.1 billion of travel industry contracts. http://london.wtm.com/. Next event: 5-7 November 2018 – London.
Travel Forward is a new travel technology event co-located with WTM London 2018 and part of the WTM portfolio of events. The inaugural Travel Forward conference, exhibition and buyer programme will take place on 5–7 November 2018 at ExCeL London, showcasing next-generation technology for travel and hospitality. http://travelforward.wtm.com/.
About Reed Exhibitions
Reed Exhibitions is the world's leading events business, enhancing the power of face-to-face through data and digital tools at more than 500 events a year, in more than 43 countries, attracting more than seven million participants. Reed's events are held in the Americas, Europe, Asia Pacific and Africa and organised by 41 fully staffed offices. Reed Exhibitions serves 43 industry sectors with trade and consumer events. It is part of RELX Group plc, a world-leading provider of information solutions for professional customers across industries.
About Reed Travel Exhibitions
Reed Travel Exhibitions is the world's leading travel and tourism events organiser with a growing portfolio of more than 22 international travel and tourism trade events in Europe, the Americas, Asia, the Middle East and Africa. Our events are market leaders in their sectors, whether they are global and regional leisure travel trade events, or specialist events for meetings, incentives, conference, events (MICE) industry, business travel, luxury travel, travel technology as well as golf, spa and ski travel. We have more than 35 years' experience in organising world-leading travel exhibitions.