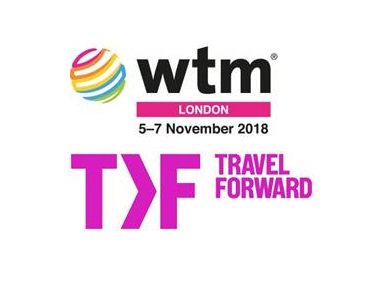 WTM London Day 2: Startups take center stage at Travel Forward
TripNinja, a Canadian multi-city flight search technology specialists, has won the inaugural Startup Pitch competition at Travel Forward.
It was chosen from a shortlist of four, with attendees at the event voting for the winner after a series of presentations. The competition took place on the closing afternoon of the inaugural Travel Forward, co-located with WTM at ExCel London.
The other three finalists were: 15togo, a group travel application designed for Millennials; Fly Now Pay Later, which allows travel brands to offer customers the option to pay in instalments; and Thimus, an Italian business specialising in travel-specific applications of applied neuroscience and biometric data.
The startup pitch competition was sponsored by Amadeus. Earlier in the day Francesca Benati, Executive VP Online Western Europe, Middle East & Africa, appeared on a panel discussing the relationship between brand and distribution.
She said that OTAs were increasingly thinking about technology as a means to define their brand. "It is becoming harder for OTAs to attract and retain customers, so they are looking at offering a seamless experience, not just in the booking flow but also in how they relate to the users," she said.
Engagement with consumers through their journey is an area of focus for the hospitality industry. The second day began with a keynote from Greg Webb, Senior Vice President and General Manager, Oracle Hospitality, who told hoteliers that technology is enabling them to think differently about the potential value of a customer. "If you know that someone who has booked with you has 100,000 followers on Twitter, that person should be treated as a VIP because of their social profile."
In a separate session, he also observed that the current tech landscape – such as cloud and SaaS – is allowing startups to allocate any capital raised towards people and ideas, rather than their tech infrastructure.
His comments followed a fireside chat with Susie Stanford, Associate Director, Livingbridge, a UK investment firm with a strong track record in travel. She noted that "capital is not a scarce commodity" and that startups with genuine potential would always find someone to back them.
She caveated this by saying she was interested in "KPIs rather than headlines" and that "data is table stakes – entreprenuers who have qualitative data get more value from VCs."
One of the most successful travel startups of recent years is Klook, a four-year-old Asia-based B2B and B2C tours and activities business which recently picked up a $200 million Series D round. Its CEO Eric Gnock Fah was talking at Travel Forward, not about his startup credentials but more generally about how the industry can best serve the ever-increasing Asian outbound market.
His takeaway was that "Asia is more diverse than North America and Europe" and that Asia is more than China. He said that China accounts for some 30% of the Asian outbound market, but that Japan and Korea were also significant, mature markets.
Established tech giants are also starting new businesses. Facebook's portfolio now includes Workspace by Facebook, an online collaboration tool, launched just over two years ago. Virgin Atlantic started using it last September across the entire workforce, from its pilots to its travel agents.
Steve Clarke, Senior Manager, Communication Channels, Virgin Atlantic said that by the end of the year 80% of staff had adopted the tool, ahead of its original target of 65%. Currently 90% of its staff use the tool.
He said that some of the inflight features which will be included when its new Airbus A350-100s go into service next year have come about as a result of conversations which took place within Workspace.
Closer to home, trainline's Chief Technology Officer Mark Holt explained the scale of the internal and external data the business uses to develop its proprietary algorithms, from a bot which directs passengers towards uncrowded parts of the train to price prediction services.
His advice to attendees looking at how to implement artificial intelligence and machine learning was simple: "get the basics right".
Jon Collins, Programme and Content Director, Travel Forward, said: "We've covered a lot over the past two days – startups, big data, Asia, digital transformation, funding, AR and VR and more. We're already starting to think about next year and even though we have set the digital bar very high with our first event we expect Travel Forward 2019 to be even better.