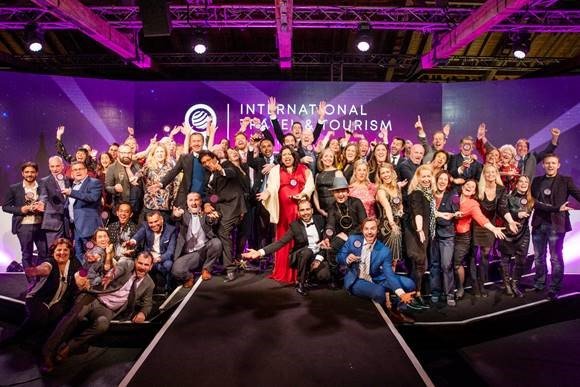 Winners announced for inaugural International Travel & Tourism Awards
The lucky fourteen winners of the first International Travel & Tourism Awards, presented by WTM London, have been revealed this evening (Tuesday 6 November) at a glittering awards ceremony in London.
The award winners were honored in front of an audience of more than 500 senior industry professionals at the Grade I-listed Tobacco Dock, near WTM London's ExCeL venue.
Judged by an independent panel of experts from around the world, the 14 awards showcase the best in class of the global travel and tourism industry.
Nick Pilbeam, Divisional Director at WTM London's parent company, Reed Exhibitions led the judging panel alongside UNWTO's Director of Communications, Marcelo Risi.
ITTA's Co-Founder Paul Nelson said; "We have been delighted with the response from the industry to the ITTAs and blown away by both the quantity and the qualities of the entries.
"All the finalists represent what these awards are about: celebrating the success of national, regional and city tourist boards and recognizing outstanding private sector companies and individuals.
ITTA's Co-Founder Charlotte Alderslade added: "The ITTAs awards ceremony was a celebration of the best in the class for the travel and hospitality industry. It was a great night.
"And I look forward to seeing more creativity and outside-the-box thinking for 2019."
The winners are:
Best National Tourism Board / DMO Campaign
Sponsored by National Geographic
Gold: Turismo do Centro de Portugal – To Visit and To Stay is To Help!
This campaign helped the tourism industry recover following serious fires that affected the Central Region in 2017.
Silver: Visit Faroe Islands – Faroes Islands Translate
Highly Commended: Visit Estonia, Zavod BBDO and BBDO Berlin – The Estonian Stress Buster
Most Innovative Use of Technology within a Destination
Gold: South African Tourism and Drive South Africa – Google Trekker South Africa
This enables nature-lovers to explore South Africa's national parks and nature reserves on Google Street View, thanks to help from more than 200 South African volunteers.
Silver: Hong Kong uCloudlink Network Technology Ltd – Global Pocket WiFi
Highly Commended: Kyiv City Tourist and Information Centre – Kyiv City Guide
Highly Commended: Walks and City Connect – Walk On Walk Off – Flexible Tour Pass
Best Tourism Marketing Agency
Gold: made Tourism Marketing on behalf of Littlestar Services – MAMMA MIA! The Musical – Tourism Marketing Campaign Jan 2016 – Dec 2017
The production generated approximately £15 million in a two-year period and 65% was attributed to made's tourism marketing activity.
Silver: Inova Hospitality Management – The Unique Inova Approach
Highly Commended: AM+A Marketing and Media Relations – Supporting Slovenia Tourism Board's World Bee Day: Introducing Api Tourism to the World
Highly Commended: Brighter Group, A Finn Partners Company – ExtraJordanary – Reinvigorating Tourism to Jordan
Best Regional / City Campaign
Sponsored by World Tourism Cities Federation
Gold: VisitFlanders – The Mud Soldier
One hundred years after the First World War Battle of Passchendaele, this mud and sand sculpture in London's Trafalgar Square was worn away by water in four days, resulting in huge exposure on traditional and social media.
Silver: Marketing Manchester – Come Together Campaign
Highly Commended: DEC BBDO on behalf of Canary Islands Tourism – After-Rain Ads
Highly Commended: Tourism Toronto – The Views Are Different Here Campaign
Best PR Campaign
Gold: DEC BBDO on behalf of Canary Islands Tourism – #StopBlueMonday
This campaign encouraged people to make their own positive poster to share via social media – increasing UK winter tourists by 19.8% and attracting £76.4 million of new revenue.
Silver: Visit Orlando – Orlando's BIG Thank You
Highly Commended: Visit Faroe Islands and Atlantic Airways – Faroes Islands Translate
Highly Commended: The Puerto Rico Tourism Company and Ketchum – From "Come Back" to Comeback: How Puerto Rico Tourism Defied Two Hurricanes and Major Misconceptions
Best Digital Campaign in Tourism
Sponsored by Ink
Gold: DEC BBDO on behalf of Canary Islands Tourism – The 7 Islands That Became 47
This Canary Islands Tourism campaign re-positioned the image of the destination from being seven sun-and-sea islands to 47 different islands every day.
Silver: AirAsia Malaysia and WE ARE KIX – Adventure Live
Highly Commended: Visit Faroe Islands and Atlantic Airways – Faroe Islands Translate
Best Digital Influencer in the Industry
Sponsored by Turkey's Ministry of Culture and Tourism
Gold: Viajar Verde – Sustainable Tourism Blog
Ana Duék's blog and website, Viajar Verde, has become recognized as the main website and reference on responsible tourism in Brazil.
Silver: Vagabrothers Productions Ltd – Vagabrothers
Best in Wellness Tourism
Gold: Slovenian Tourist Board – Healthy Waters
This spa and wellness campaign substantially improved the profile of Slovenian resorts on a national and international scale.
Best in Responsible Tourism
Sponsored by Rovia
Gold: Kerala Tourism – Kerala
This scheme enables tourists to experience rural lifestyles, and 20 new Village Life Experience Packages will be introduced across 14 districts in the state of Kerala over the coming year.
Silver: Cinnamon Hotels Management Ltd – The Cinnamon Elephant Project
Silver: Yayasan Karang Lestari Pemuteran Bali (Coral Reef Restoration Foundation) – Coral Reef Revival
Best in Adventure
Gold: Experience Jordan – The Jordan Bike Trail
This 700km epic trail allows cyclists to experience the best of Jordan and created fresh opportunities in the 54 villages along the route.
Silver: G Adventures – Adventure With Purpose
Highly Commended: The Tuk Tuk Club – Putting the 'Adventure' Back into Adventure Travel in Northern Thailand
Best Food Destination
Gold: Food NI Ltd – Northern Ireland's Year of Food and Drink 2016
This initiative, delivered on a budget of £230,000, repositioned how food and drink in Northern Ireland is perceived and generated £41 million-worth of positive PR.
Silver: Gipuzkoa Provincial Council – TXOTX!
Best in LGBT
Gold: Geotourist and AARP – GLBT History Tour of Denver, USA
This project raised the profile of Denver being a GLBT city and brought people of all creeds, backgrounds and ages together.
Silver: Israel Tourist Office – Leading LGBT Destination
Best in Luxury
Gold: Mauritius Tourism Promotion Authority and Hills Balfour – Taylor Morris & Mauritius Luxury campaign
This campaign targeted the affluent millennial market, and has had a direct impact on the increase in visitor figures to Mauritius.
Silver: Caldera Yachting – Santorini Luxury Cruises – The Experience of a Lifetime
Outstanding Contribution
Air Canada