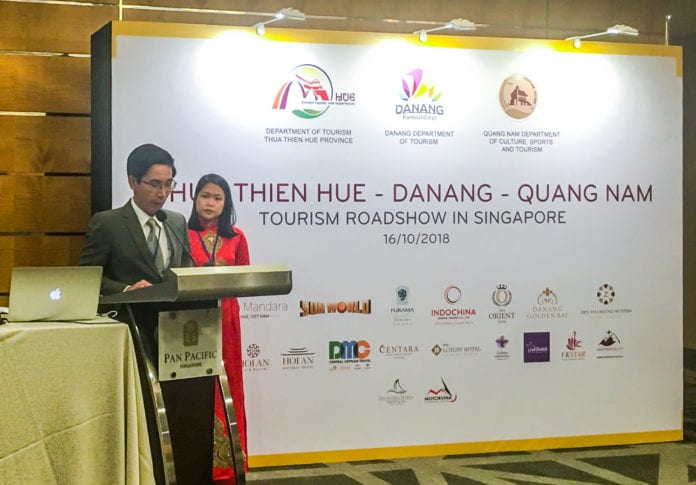 What is the Hue, Danang and Quang Nam tourism product?
Representatives from the Culinary Beach Resort, Furama Da Nang, and the Ariyana Convention Centre participated in the tourism product introduction for Hue, Danang and Quang Nam to Singapore held at Pan Pacific Singapore, to connect domestic tourism companies with international travel agents.
The Hue, Danang and Quang Nam tourism product introduction event will take place from October 17-19, 2018. Singapore is one of the prime markets with high purchasing demands for Southeast Asian tourism.
"This program is expected to evolve into an annual event, aims to connect Singapore to these 3 destinations; not only for demonstrating the products but also showing the willingness of domestic enterprises. We believe that the central Vietnam region will offer a variety of choices for customers. Moreover, our partners will make use of this opportunity to showcase the destination to other potential markets," said Mr. Tran Chi Cuong, Deputy Director of Danang Tourism Department.
According to Mr. Shankar Daniel, representative of Furama Resort Danang and Ariyana Convention Centre office in Singapore: "The Singapore market recognizes that Furama Resort Danang and Ariyana Convention Centre has all the right ingredients for a successful conference, meeting and gala dinner, with the right infrastructure, space and size to accommodate all kind of events. MICE planners and companies want their qualifiers to bring back unforgettable memories and experiences, to share with their colleagues, family and friends to build their business opportunities. Furama Resort Danang and Ariyana Convention Centre has set that pace to become clients' preferred choice."
Mr. Nguyen Duc Quynh, Vice Chairman of Danang Hotel Association, Deputy General Director of Furama Resort Danang, opined: "The frequency of 4 direct flights/day from Singapore serves as a good premise for Danang to promote and attract tourists from Singapore market. With the existing expertise in organizing MICE events and the only one-hour by flight distance, Da Nang and the Central Region are well-qualified to become an attractive destination for the Singaporean market. What we have to do now is creating connections and providing tourism products and services which meet the needs of Singaporean clienteles.
"For the first 3 quarters of 2018, the number of Singapore visitors to Da Nang has reached 16,286; tourism researches has not seen Singapore being in the top ten international tourism markets for Danang. The number of Singaporean visitors to the Central Region is still modest, it is undoubtedly an important market as Singapore is the central hub of more than just Asia, gathering and connecting worldwide event planners. Singapore is a crucially prime market that we need to target."