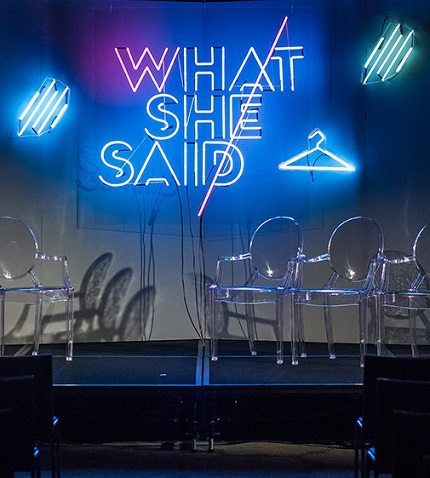 W Hotels re-ignites the What She Said conversation
It's time for women to speak up as never before. And, perhaps, most importantly, it's time for people to LISTEN to What She Said. W Hotels today announces an exciting next step for What She Said, the brand's popular initiative that celebrates femininity – in all its forms, nuances and glory. Here, femininity is defined by experience, not confined by gender. Since launching in 2016, What She Said has given a platform to icons of culture like Diane von Furstenberg, Jenna Lyons, Rachel Zoe, LeToya Luckett, Tig Notaro, Cheryl Hines, and NIIA, among others, with over 40 well-attended and stimulating What She Said events to date. Now, as conversations in our society evolve, so too will the What She Said platform, which will focus on providing safe spaces for conversation to drive progress in the gender equality movement by bringing in provocative speakers, cultivating community, and sparking conversation that inspires, educates, and enlightens. In addition to panels hosted with experts of industry around the world, W will host at least one intimate dinner each month, bringing captivating, behind-closed-doors conversations about modern issues of equality to the global stage through curated podcasts, videos and livestreamed content.
"W Hotels has always been a bold advocate and active participant in global conversations around equality," said Anthony Ingham, Global Brand Leader, W Hotels Worldwide. "The next iteration of What She Said will once again offer a global platform for essential conversations to be heard, navigating the challenges and triumphs of work, love, play and everything in between. This is a defining time for gender equality, not just in the U.S., and our global presence gives us the opportunity to foster meaningful discussions in a safe space, rooted in the idea that change comes from a place of understanding and positivity."
W kicks off the 2018 What She Said program on February 23 at W Hollywood as What She Said hands over the stage to powerhouse writer, producer, and director, Ava DuVernay. Spoken word poet, Olivia Gatwood, will start off the evening with a live performance followed by DuVernay who will welcome a private audience for an evening of honest discussion around work, life and femininity.
DuVernay has broken many boundaries throughout her award-winning career. She is the first African-American woman to win the U.S. Directing Award: Dramatic from the Sundance Film Festival for her film "Middle of Nowhere"; the first African-American woman nominated for a Golden Globe Award® for directing; and the first African-American woman director to have a film nominated for the Academy Award® for Best Picture (for her work on the Academy Award-winning film "Selma"). As the director of Disney's highly-anticipated "A Wrinkle in Time" DuVernay has reached another milestone as the first African-American woman to direct a live action film with a budget of more than $100 million. She is a gifted storyteller and a hugely influential voice, inspiring millions around the world with her work and wisdom.
"We still have a lot of work to do. We have a long way to go before we reach a state of equality and platforms like What She Said are helping to do the work," said Ava DuVernay. "Like film, conversations like these can be a vehicle for empathy, a place to speak honestly about difficult aspects of society today and perhaps most importantly, a space to celebrate one another."
What She Said will continue the conversation each month at W hotels around the world covering a range of topics with industry experts in the fields of art, design, architecture, fashion, and fitness. Below are some highlights from the 2018 schedule:
• March 5, 2018: W Boston, Women in Fitness, conversation with Olympian Nastia Liukin and local celebrity chef and James Beard Award Winner, Jody Adams
• March 7, 2018: W Dubai – Al Habtoor City & W London – Leicester Square, International Women's Day celebration
• April 12, 2018: W Amsterdam, Design Panel with designers Antoinette van den Berg, Spijkers & Spijkers, Alexandra Frida, Bibi van der Velden and Loes Vrij
• May 12-20, 2018: W New York – Times Square, Women in Architecture, in partnership with NYC Design Pavilion and NYC Design Week