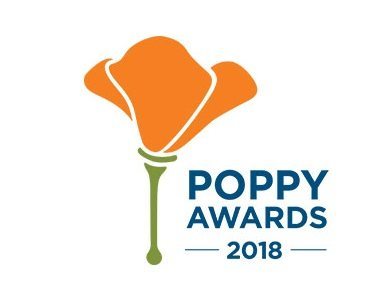 Visit California honors tourism destinations at the 2018 Poppy Awards
Visit California honored tourism destinations and attractions across California for excellence in tourism marketing at the Poppy Awards, held at the City National Grove in Anaheim. Categories included best overall marketing programs, best digital campaign, best content marketing initiative and best public relations campaign.
"The Poppy Awards celebrate California's innovative, anything-is-possible spirit and raise the bar for travel marketing throughout the state and beyond," said Caroline Beteta, president and CEO of Visit California. "Congratulations to the winners and finalists whose creativity and dedication inspire their colleagues and elevate California as a world-class tourism destination."
Beteta presented the 2018 Poppy Awards during the 10th annual Visit California Outlook Forum, held February 14-15 in Anaheim at Disney's Grand Californian Hotel & Spa and attended by hundreds of tourism industry leaders. Made by California artisan Nicholson Blown Glass in Auburn, Poppy Awards are given every two years to acknowledge the best of California's tourism promotion. A panel of industry marketing experts selected the winners of the Poppy Awards in eight categories: Best Overall Marketing Program (at three budget levels); Best Digital Campaign; Best Social Media Campaign; Best Content Marketing Initiative; Best Cooperative Marketing; and Best Public Relations Campaign.
During the ceremony, Visit California also presented the California Dreamer Award, presented to individuals who truly embody the California spirit, to Louie Schwartzberg, a celebrated filmmaker and pioneer in time-lapse cinematography.
"Louie Schwartzberg embodies what it means to dream big in the Golden State, and his imagination and drive has made him a trailblazer in his field," Beteta said. "His work truly captures the beauty of California's unmatched landscape and natural environment, captivating audiences everywhere."
This year's 2018 California Poppy Award winners are:
Best Overall Marketing Program – $2 million and up
Los Angeles Tourism & Convention Board
Best Overall Marketing Program – $500,000 to $2 million
Greater Palm Springs Convention & Visitors Bureau
San Diego Zoo Global
(tie)
Best Overall Market Program – less than $500,000
San Francisco Travel Association
Best Digital Campaign
Visit SLO CAL
Best Social Media Campaign
Squaw Valley Alpine Meadows
Best Content Marketing Initiative
North Lake Tahoe Visitor Bureaus
Best Cooperative Marketing
Visit Anaheim
Best Public Relations Campaign
San Diego Tourism Authority