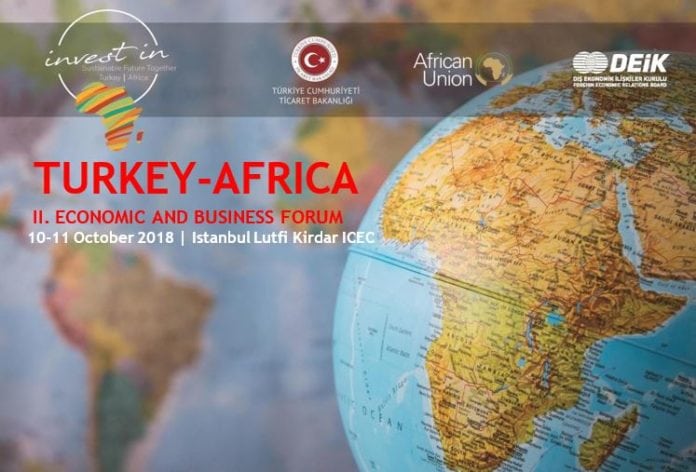 Turkey eyes Africa at the Istanbul Economic and Business Forum
Turkey has long-standing historical and cultural relations with the African continent, dating back centuries. And, Turkey's decade-long economic boom has been accompanied by a renewed interest in Africa and the trade volume with the Continent has been quadrupled to billion USD in 2017 in 15 years since Turkish strategy on the Development of the Economic Relations with African Countries was prepared in 2003.
Turkey's "win-win" approach towards Africa has culminated in this burgeoning relation between parties. This policy focuses on political equality and mutual economic development rather than creating new relations of dependence, tutelage and exploitation.
In line with Turkey's African Opening policy, DEiK/Turkey-Africa Business Councils aims to improve Turkey's commercial and investment relations with African countries and the Continent as a whole; as well as increase the share of Turkish companies in the African geography by providing networking platforms to gather the political leaders and senior decision makers in Africa and Turkey, heads of financial institutions, company executives, and investors for new joint ventures, trade partnerships and investments.
In this context, Turkey-Africa the First Economic and Business Forum was held under the auspices of President of the Republic of Turkey H.E. Recep Tayyip Erdogan and the Term Chairman of African Union, President of the Republic of Chad H.E. Idriss Deby Itno on 2-3 November 2016 in Istanbul. The Forum, under the motto of "Unite, Discover, Create", brought together 50 high level officials and 3.000 business people from Turkey and 49 African countries.
This year, Turkey-Africa the Second Economic and Business Forum will be jointly organized by Turkish Ministry of Commerce, AUC and DEiK under the motto of "Building a Sustainable Future Together through investments and joint ventures" on 10-11 October 2018 in Istanbul, Turkey.
The Forum is mainly aimed at promoting Turkish and Africa investments through analyzing trade and economic relations between Africa and Turkey; evaluating Turkey's approach to investment in Africa; facilitating interaction between the two business communities and initiating dialogue between Turkish investors, the AU and the RECs. It is also aimed at highlighting the Expectations engendered by Agenda 2063 as a program for social, economic and political transformation that will make Africa a prosperous, united and economically independent Continent.
The premier event will be attended by economy, trade and finance Ministers from African countries, chairs and presidents of chambers, NGOs, business associations and professional organizations, the commissioners of AUC and secretary generals of African regional economic communities, representatives of African Development Bank (AfDB) and other financial institutions, diplomatic missions, press members, business people and investors both from Turkey and the Continent.
The two-day event will be enriched by the opening remarks of Term President of the African Union and President of the Republic of Rwanda H.E. Paul Kagame and President of the
Republic of Turkey
H.E. Recep Tayyip Erdogan
, award ceremony, welcoming reception with fashion show, G2B meetings where guest Ministers will present current investment environment and opportunities in their countries, the panel sessions where Turkish companies that have made significant investments in Africa will share their experiences, and the major investment projects especially in infrastructure, transportation and energy sectors and financing instruments will be discussed by expert speakers. In addition, business to business meetings and CEO networking sessions will be held simultaneously.
Thematic Sessions
Turkey's long term companionship with Africa on the win-win basis and the attainment of Africa rising vision hinging on the motto of "African issues need African solutions" would form a meaningful cooperation by combining Turkish know-how with African resources to develop value-added products and export them to third countries. In this regard, textile and tourism sectors could be targeted sectors having great potential for such cooperation.
Turkish clothing and home textile industries have had a significant role in the world's clothing and home textile markets in the last two decades. And, in Turkey, apparel sector is the second biggest sector following the automotive sector with a share of 12,4% (17 billion $ exports in 2017). The clothing and textile industry is largely based on cotton and domestic output does not fully meet demand, which makes Turkey the world's third-largest cotton importer. Meanwhile, about 8% of the cotton traded in the world market is harvested in Sub-Saharan Africa which has much more planting capacity with a competitive advantage due to the duty-free access of exports to the large US market. In this regard, Turkey can provide technology and vocational education to increase this percentage and gain mutual benefit. Within the Forum program, the topic of "Africa's position in the changing pattern of international textile trade and Turkey's potential collaboration" will be discussed by keynote speakers to promote investment and joint ventures in textile sector.
In 2016, Turkey was the 10th most popular tourist destination in the world according to UNWTO. And, the number of foreign travelers arriving in Turkey in 2017 was 38.6 million. 165 hotel chains and groups have currently 824 hotels in Turkey and 82 percent of these hotels are domestically owned. There are also several Turkish hotel chains with global sustainable tourism standards. Meanwhile, hotel supply in Africa remains unbranded and there is an undersupply of quality accommodation. 100 million arrivals to Africa today are expected to grow to 150 million by 2027. Besides, today 42% of Africa's one billion people live in cities and consumer and business purchasing power has been continuously increasing. In this context, Turkish hotel investors can meet this high need of accommodation and offer hotel management services as well as vocational education. Furthermore, Turkish contracting companies could also offer engineering and construction services for tourism infrastructure in Africa. Within the Forum program, the topic of "What will shape the future of tourism Africa in next 10 years?: Infrastructure, Investment and Technology" will be discussed by keynote speakers in the sectors to promote new investment areas and global branding.
In 2017, Turkey ranked second for the number of contracting companies building the largest volume of projects across the world outside their home countries for the 10th year in a row, according to the latest list of the world's "top 250 contractors" by the magazine Engineering
News Record (ENR). Turkish contractors experienced with PPP projects are also amongst the major undertakers in Africa. Share of African countries in the overall international business volume of Turkish contractors is around 21 percent (share of North Africa is 19%). Turkish contractors so far have undertaken in the continent over 1.150 projects which worth 55 billion USD. Meanwhile, rapid urbanization in Africa requires urgent need for housing, infrastructure and electricity. In 2017, the greatest number of projects valued at 50 million USD or above (303 projects worth 307 billion USD) in Africa fall into the Transport sector (36%), followed by Real Estate (22.4%), Energy & Power (19.1%) and Shipping & Ports (7.9%). On the other hand, most of these projects experience cost overruns. In this regard, Turkish contractors and energy companies can keep projects on budget and on time as well as offering knowledge-driven solutions for complex construction projects. Within the Forum program, the topic of
"Collaboration between Turkey and Africa on Construction, Infrastructure and Energy"
will be discussed by the company executives and representatives of related institutions to promote opportunities and major PPP projects with financial instruments.
In addition, one of the panel sessions will focus on "Financing of Trade and Investment in Africa" and gather representatives of African Development Bank, Afreximbank, ITFC, FCI and Turkish Eximbank to promote their services and financing solutions.
On the second day of the Forum, Ministerial Meeting will be held under the theme of "Fair, Free and Sustainable Trade; Risks of Protectionism for Africa" with the attendance of guest Ministers from African countries and joint communique of this meeting will announced to media. There will be also singing ceremony for cooperation agreements with Turkey and other participant countries on various issues.
Bilateral Business Meetings
Business People from both Africa and Turkey will have a chance to conduct face-to- face meetings and develop new business ties.
For direct contact with your future partners: Turkish, regional and international economic players, investors and manufacturers.
CEO networking meeting to develop new joint ventures.
Advantages
Introduce your company and your projects, products and services.
Establish relationships with Turkish Investors from major global economic areas.
Engage with International Media and Businesses.
Unique opportunities to boost contacts with Economic player.
Accessing to major projects and financial instruments.
Developing new partnerships in the third countries.
Improve your business network
Objectives
The objectives of the Forum are:
Raising the awareness of Turkish/Africa business circles to Africa and Turkey.
Analyzing the current situation of Turkey-Africa trade and economic relations.
Seeking the cooperation opportunities between Turkey and Africa and discussing the challenges.
Encouraging both Turkish and African private sector entrepreneurs to create investment opportunities and joint ventures in both sides.
Evaluating new approaches to Turkish investments in Africa.
Increasing interaction among the business communities of Turkey and Africa.
Initiating a dialogue platform with African Regional Economic Communities.
Participants
President of the Republic of Turkey H.E. Recep Tayyip Erdogan
Term President of the African Union and President of the Republic of Rwanda H.E. Paul Kagame and Presidents of African Countries
Turkish Minister of Commerce H.E. Ruhsar Pekcan and Ministers of African Countries (Trade, Investment, Economy, and Finance) and Public Officials
African Union, Africa Development Bank, Afreximbank and Regional Economic Communities in Africa
Banks and Financial Institutions
Non-Governmental Agencies (NGOs)
Chambers of Commerce and Industry
Business Councils, Business Associations and Professional Organizations,
Company Executives and Entrepreneurs
Sector Representatives, Investors and Producers
Turkish and African Diaspora
African Diplomatic Missions to Turkey
Mass Media
Turkish and African Investors:
Discuss immediate opportunities
Establish relationships with Turkish public and private operators
Demonstrate your expertise and your business
Meet with Turkish and regional managers and economic players
Privileged access to Turkish and African media
Service Providers:
Introduce your business activities, your expertise and your knowledge
Develop your network of prospects
Receive direct commercial and media benefits