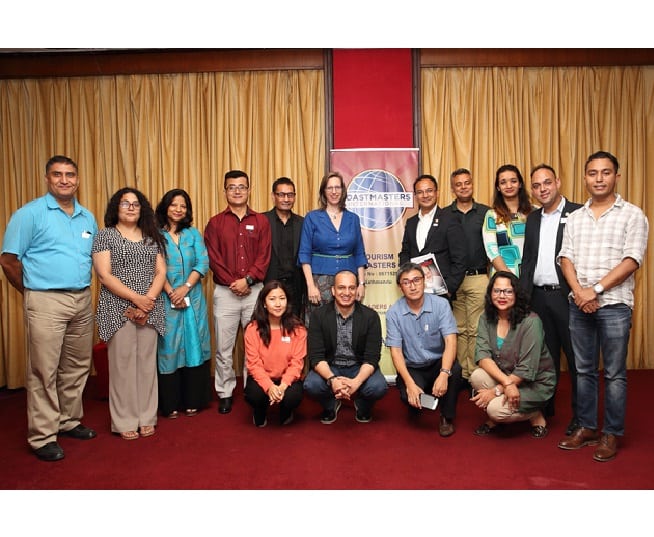 Tourism Toastmasters Club is a force to drive sustainable growth in Nepal Tourism
Nepal Tourism operating sector is embracing continual learning which can be an example to many other destinations. Tourism Toastmasters Club conducted its first meeting of new term after the installation of Executive Committee in Kathmandu on the 10th July, 2018.
Tourism Toastmasters Club – Kathmandu is a part of Toastmasters International which has HQ in the US. The club was charted in Oct 2017 to bring Tourism professionals and entrepreneurs together in order to hone communication and leadership skills. Tourism Toastmasters Club has proved to be a platform of thought leaders and go-geters with a great appetite to learn and shine.
US Ambassador to Nepal, H.E. Alaina B. Teplitz addressed the meeting as a Guest speaker sharing her firsthand experience of exploring nooks and corners of the Himalayan nation. She recalled how entranced she was by the hospitality of locals and its natural beauty. She talked about untapped tourism potential and also pointed out on the need to address basic infrastructural challenges. She did mention that with more effective communication and able leadership, Nepalese tourism can drive sustainable economic growth in Nepal. "The clubs like Tourism Toastmasters can help more professionals to get ready in catering quality experience and exploring viable source market. With collective effort of its stakeholders and addressing access issues, Nepal Govt's target of 2 million tourists by 2020 will be an achievable dream" – Ambassador Teplitz added.
There were other two featured speeches by DTM Suman Shakya and TM Shiva Raj Thapa. A team of evaluators led by TM Ravindra Pradhan demonstrated why Toastmasters club stands out by giving instant feedbacks to improve upon. Division Director, DTM Ranjit Acharya shed light on the Toastmasters movement in Nepal. The first club, Kathmandu Toastmasters was installed by UN expats 25 years ago. Now it is a part of District 41 that covers North India, Bangladesh and Bhutan.
President of the Club, TM Pankaj Pradhananga, gave a vote of thanks highlighting why one should not join Toastmaster to impress as a public speaker but to impact. He continued on how an effective communication plays the key role to opening up new avenues in rapidly changing Tourism industry. The meeting was emceed by club Secretary, TM Neha Amatya. The venue was hosted by hotel Himalaya.
"By the number and value of meeting, it was an unprecedented one attended by overwhelming number of members from various Toastmasters club and guests equally" – TM Bhanu Dawadi, an Area Director shared his observation.
The new Executive Committee of Tourism Toastmaster comprises of the below leaders :
President: Pankaj Pradhananga (ACB) / Four Season Travel & Tours
Vice President- Education: Manoj Basnet (CC) / Manny's eatery
Vice President- Membership:Sarik Bogati / Qatar Airways
Vice President- PR : Sandipa Basnet / Silver Mountain School of Hospitality
Secretary: Neha Amatya / Kora Tours
Treasurer: Shiva Raj Thapa / Summit Treks
Sargent At Arms ( SAA): Neeraj Rimal / Silk Air
yahoo