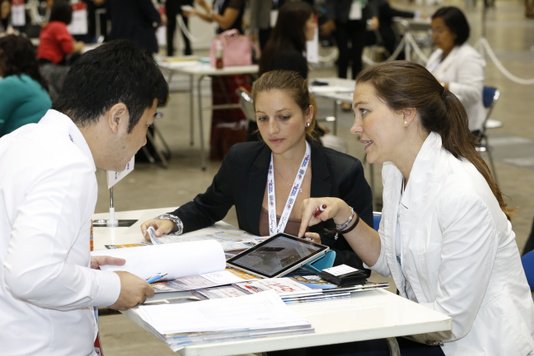 Tourism Expo Japan 2018 highlights
In its fifth year, EXPO Japan opens with an exhibition designed to engage all 5 senses of the visitors and help them find new, more exciting ways to travel. With the advent of social media, abundance of images and information available at a button- click online, travel has become part of our everyday life. Yet, travel is not only "seeing". It is an activity which one can truly enjoy only through all their senses.
Chairman Tagawa's Hitorigoto
This is what we want the visitors to Tourism EXPO Japan to feel. While in this time and day we can travel whenever we feel like, travel is still one of the best ways to learn new things, to look at ourselves from a different perspective, to discover new possibilities.
This is what travel is all about and as the organizers of Tourism EXPO Japan we strive to convey this concept by setting theme-based areas which engage all five senses.
On the other hand, we in the travel industry, need to go back to our amateur years in the trade. We need to rediscover the pioneers' spirit, the beginners' eagerness to create new products and harvest new fruits. May this EXPO be the place for both the general public and travel professionals to look for and find new styles of travel, new ways to see the world as a better place.
About our new information service
The Office of International Tourism of JATA will launch a new information service: Japanese Edition of the International Newsletter. The Japanese edition aims at delivering planner-specific news to tour planners of travel agencies and tour operators. The content of the news will be delivered in Japanese and will include video materials, tour-planner specific information (familiarization tour reports, airline campaigns, tourism board promotions of new travel attractions, destinations, etc.)
Ministerial Round Table
The two keynote speakers, Mr. Zurab Pololikashvili, Secretary General of UNWTO, Ms. Gloria Guevara Manzo, President & CEO of WTTC, will be joined by Mr. Mario Hardy, CEO of PATA, Mr. Shannon Stowell, CEO of the Adventure Travel Trade Association, Ms. Yuriko Koike, Governor of Tokyo, and the state ministers and secretaries of tourism of 15 countries at the 2nd TEJ Ministerial Round Table tomorrow, September 20th. The participants are expected to talk about policies and best practices of sustainable development.
Asian Tourism Business Leaders' Forum
The Asian Tourism Business Leaders' Forum will look into tourism management which harmonizes business development and the well-being of local communities. Dr. Mario Hardy, CEO of PATA, Prof. Graham Miller, (Distinguished University Professor & Deputy Director, Center for Tourism Research, Wakayama University, Executive Dean, Faculty of Arts and Social Sciences, University of Surrey), Mr. Daisaku Kadokawa, Mayor of Kyoto, and executives of Japanese agencies and local authorities will join the discussion.
WTTC Reception
The World Travel & Tourism Council (WTTC) is the only global body that brings together all major players in the travel & tourism sector (airlines, hotels, cruise, car rental, travel agencies, tour operators, GDS, and technology), enabling them to speak with one voice to governments and international bodies.
The WTTC Networking Reception at Tourism EXPO Japan 2018 will provide an update on WTTC's global strategy, campaigns and the forthcoming challenges and expectations for Japan's Travel & Tourism industry. The speech will be followed by a cocktail reception for all participants and opportunities to once again engage in networking with industry leaders from Japan and all over the world.
Business Meetings
The exhibitors this year have set a record number of business meeting appointments through the TEJ system. During the event (though predominantly on the 20th and 21st of September), approximately 7,000 business meetings will take place.
Exhibition
1,440 organizations and companies from both the private and public sectors of 130 countries and regions will be showcasing destinations and tour products at this year's Tourism EXPO Japan. With a strengthened publicity and theme-based exhibition zones, the EXPO is expected to attract a record number of visitors from the trade and the general public!
If you are an exhibitor, we are looking forward to seeing you there!
If not, consider coming to the Tourism EXPO Japan 2019 in Osaka – the second largest metropolis and overseas source market of Japan.