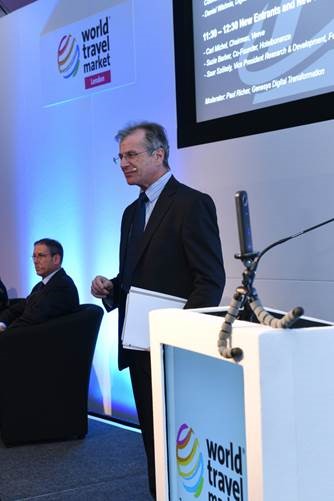 Thought-provoking debate at WTM London: Future of Technology in Travel and Hospitality
Paul Richer, the well-respected founder and senior partner of Genesys Digital Transformation, will moderate the two sessions at WTM London. The session will be comprised of a debate on day one, Monday, November 6, and the Genesys Summit, on day two of WTM London.
How technology could shape future travel and hospitality will be discussed at length by some of the most influential and knowledgeable people in the field during two sessions at WTM London – the leading global event for the travel industry – organized by leading consultancy Genesys Digital Transformation.
First off, Richer will lead a thought-provoking debate entitled the Future of Technology in Travel and Hospitality. Organized in association with Travel Technology Initiative, speakers include Jose Murta, global head of hospitality at Trivago, who will give his take on how the industry is set to develop in years to come.
Richer said: "This session will look at how, as technology continues to evolve, new opportunities present themselves to operate our businesses in an increasingly sophisticated manner.
"These opportunities also provide an entrance into our industry for new technology-led companies that are challenging the accepted orthodoxy – and revolutionizing the way travelers connect with independent hotels, hotel chains and OTAs."
The session takes place on Monday, November 6 on the WTM Global Stage: AS1050, from 16:00-17:30. As the first day of WTM is invite only, delegates must ensure they are registered for all three days to attend this session.
Then, on day two, some of the world's most digital-savvy executives will take part in this year's Genesys Summit. The 2017 summit is entitled Future Digital Thinking and looks at how organizations are – or should be – addressing the growing consumer market of digital natives.
Richer said: "Future thinking requires bosses to look ahead three to five years and put strategies in place that will allow businesses to continue to thrive in these ever-changing times.
"The summit provides the perfect opportunity for people to hear from those in the know what the future has to hold. It's also an opportunity to address key questions such as whether companies are positioning their business for the future and where they should be focusing their resources."
Joining Richer in the discussion are Daniel Wishnia, digital marketing consultant at GCH Hotel Group GmbH; Paul Mulcahy, senior vice president commercial at Movenpick Hotels and Resorts, as well as Max Sinclair, founder of Eco Companion – the booking engine for sustainable wildlife and nature travel experiences.
The Genesys Summit – Future Digital Thinking will take place on Tuesday, November 7 from 10:00-12:00, in Platinum Suite 4.
World Travel Market London, Senior Director, Simon Press said: "The Genesys sessions at WTM are always well attended, with some of the most knowledgeable figures in the digital world willing to share their views and best practice.
"Paul Richer has long been an expert in the tech field and remains at the forefront of the latest digital developments. As such, this year's Genesys Summit is a must-attend for anyone who wants to plan their medium-term strategy in order to retain a competitive edge in the fast-changing technology arena."
For more information, click here.