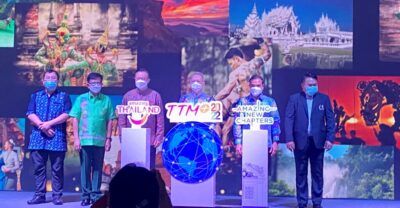 Thailand Travel Mart Plus 2022 opens with great turnout
As the premier showcase of Thai tourism, the TTM+ 2022 will showcase travel products, services and experiences from around Thailand under the theme of 'Visit Thailand Year 2022, Amazing New Chapters' that promotes Thai cultural values in the 'from A to Z Amazing Thailand has it all' concept, in the hope that this will inspire travelers from the world over to once again visit Thailand.
This morning the Tourism Authority of Thailand (TAT) announced that this year's edition of Thailand's leading B2B travel industry show, the Thailand Travel Mart Plus (TTM+) 2022, in Phuket from 8-10 June was expected to exceed expectations, with exceptional attendance following months of global lockdowns.
The TTM+ drew 276 buyers from 42 countries and 264 vendors from four regions of Thailand this year. In addition, over 90 domestic and foreign media, industry VIPS, and sponsors have made their way to the Angsana Laguna Phuket for this year's TTM+. Thailand's largest travel show aims to showcase 'Amazing New Chapters' in Thai tourism.
Mr. Yuthasak Supasorn, TAT Governor, said back in March during the launch event: "TTM+ 2022 will be an excellent opportunity, as the country's flagship annual tourism event always is, for buyers and sellers to come together and build on existing business relationships and forge new ones. Significantly, the event will include a focus on Thailand's change towards stronger and more sustainable, more responsible tourism growth, a transformation of Thai tourism that maintains the long-standing 'Amazing Thailand' branding."
The program for the TTM+ 2022 features two full days of buyer/seller appointments tomorrow on Thursday, 9 June and Friday, 10 June, which follow the registration, opening ceremony, TTM Talk, Thailand Product Update, and welcome reception all scheduled for today Wednesday, 8 June. There will also be a networking dinner for buyers and media, hosted by the Phuket Tourist Association, on the evening of 9 June.
First held in 2001, the TTM+ has gained a well-earned reputation in visitor source markets the world over, and within Thailand's tourism industry itself, as a 'must-attend' event. This year, the TTM+ 2022 is all set to continue the tradition of providing a valuable platform for sellers and buyers to meet with current and potential business partners and to reinforce relationships with global travel specialists and decision-makers.
Held mostly in Bangkok each year since its launch, the TTM+ was relocated to Chiang Mai in 2016-17, Pattaya in 2018-19, and then Phuket in 2021 as part of the strategy to promote provincial destinations.