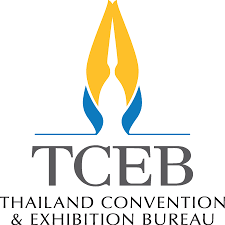 Thailand is now Ready for Clean Meetings with a Smile
Thailand has reopened for MICE business and received a very warm welcome with many new face-to-face conventions and mega-events are confirmed between 2022 and 2027. To further strengthen the country's leading position, Thailand Convention & Exhibition Bureau (TCEB) is ready to offer initiatives and new development to refresh MICE using "Meet the Magic" as its core value.
The first large convention is the 2022 Global Summit of Women between 23 and 25 June in Bangkok. It will welcome over 1,000 participants from over 60 countries. 
To mark the reopening of Thailand and create international confidence, TCEB is revealing a new MICE brand at IMEX Frankfurt.
'Thailand MICE – Meet the Magic' heralds Thailand's new position in revitalizing travellers' experience and re-energizing the industry after two years without international travel. With potential as a world destination, Thailand will show its uniqueness in combining its soft and hard power in delivering events.
In addition to marking the reopening of the country in the MICE market, TCEB is announcing updates on products and initiatives that will boost the industry. They include new localized experiences, growth opportunities for new business and professional sectors, mega-events, technological solutions, and hygienic practices for events, as well as carbon footprint initiatives and support schemes. All are designed to meet the shifting requirements of the industry.
The current situation for entry into Thailand is that a negative test result is no longer required. The maximum control zone has ended and event organizers are able to organize events as appropriate.
Mr. Chiruit Isarangkun Na Ayuthaya, TCEB President: "We are aware that the industry has an appetite for reconnection in face-to-face events, new inspiration, and new opportunities. With new development in sustainability, opportunities for growth in new business sectors, and localised experiences, we will showcase a new facet of Thailand with deliverables that can not only make up for a two-year absence of our direct contact but also create positive magical impacts for the industry."
The momentum of MICE in Thailand is in an accelerating mood now. A series of events are due to take place in our multi-city destinations – Bangkok will welcome the Unicity: 2022 Global Leadership & Innovation Conference with over 12,000 attendees between 6-7 August and the Asia-Pacific Economic Cooperation (APEC) Summit between 18 and 19 November. Pattaya will host the International Conference on Family Planning (ICFP) 2022 with 5,000 attendees on 14 and 17 November, Phuket will host Travel Blog Exchange Asia 2022 (TBEX Asia 2022) during 15-18 November. In 2023, Bangkok will host the 62nd ICCA Congress 2023 between 12 and 15