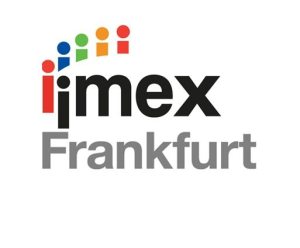 Taking creativity & innovation to new heights at IMEX in Frankfurt
A frequent challenge in the meeting and event industry is how to source fresh and creative ideas. One solution is to step out of your comfort zone and that's exactly what planners at IMEX in Frankfurt, taking place 15 – 17 May, were able to do.
As part of a new partnership between C2 International and the IMEX Group, C2 brought their innovative Learning Labs to the show – the first time they have appeared in Europe.
The Learning Labs, located in the show's dedicated learning zone, are part of C2's mission to innovate and offer fresh perspectives for face to face events.
At the Sky Lab, planners could take part in a brain storm in mid-air, focusing on creativity, innovation and delegate engagement. These sessions were a hit with many seeing how the Sky Lab could offer a fresh experience for their clients, as Kate Neville from The Boston Consulting Group explains: "Innovation and disruption are exactly what we seek to bring to our clients. The Sky Labs really awakens your senses and is a great way to give delegates a fresh experience – it certainly beats a PowerPoint!"
At C2's In the Dark Lab, planners were plunged into darkness, enabling them to fine tune their focus and discuss current trends – this proved very popular with many sessions fully booked.
Giant Dundu puppets, which roamed the area meeting delegates, a giant floor piano, caricaturists from Company Comics and Musicworks musicians were some of the fun, experiential ideas planners could discover in the new Live Zone.
Mister Piano (and his giant piano) was a wonderful musical accompaniment to the busy, buzzy Live Zone area as Natalia Voskanyants from Liberty International Tourism Group in Russia explains: "Having played the giant piano I can see how this would be a good fit for some of my events – I run many team building events and this is a good way to get participants working together and having fun". Melissa Lim from MCI Group Asia adds: "This could be a great ice breaker to begin a conference or incentive. The giant piano – and many of the innovations here today – are really innovative and engaging."
The ZEUS Co-Working Campus, in cooperation with Design Offices, created a meeting and lecture area with a packed programme of sessions on digital trends and developments in the MICE industry, the workplace needs of generations Y and Z, current and future technology challenges in the areas of technology and diversity and gender equality.
Innovation and creativity are the focus of many education sessions taking place in the Inspiration Hub. The three Cs – communication, creativity and collaboration – were explored by experiential music agency, Song Division.
Applying creative thinking to creating a legacy was explored in 'Redefining leadership success with an innovation mindset.' Planners learnt from practical group exercises how to channel a positive and open mindset and put the focus on collaboration not competition – "we need to value team effort not just the individual'' explained the speaker Aurélie Ferron from Sustained Impact. She added: "Innovation doesn't mean starting from scratch'' and urged planners to gather the views of others and build on existing ideas."
Carina Bauer, CEO of the IMEX Group, explains: "We know that fresh ideas rarely appear from thin air – the right conditions needs to be created for inspiration to strike. Whether it's being elevated into mid-air, plunged into darkness or playing a giant piano, we hope that planners will come away with creative tools to apply to their own events at the same time as having a little fun!"