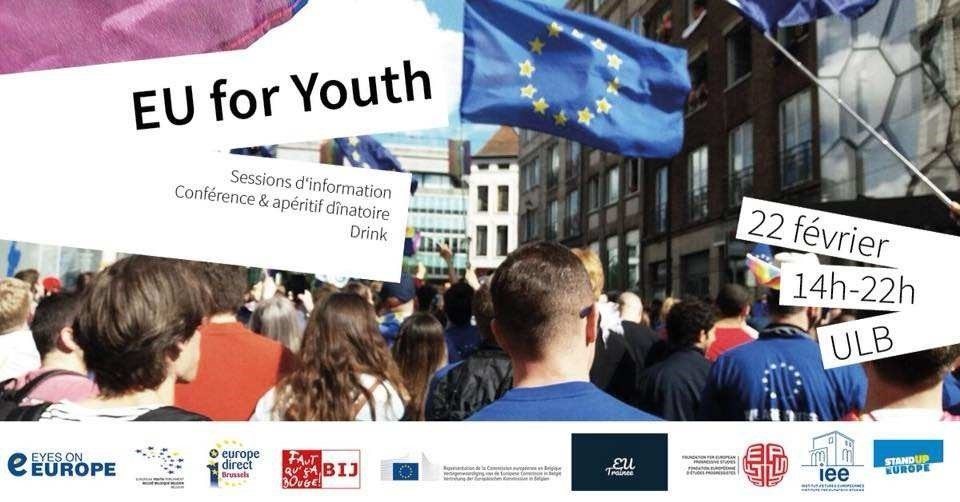 Students for Europe – Europe for students?
On 22 February, the 'Eyes On Europe' student association will organize an afternoon dedicated to the importance of the European Union for students, entitled "EU for Youth". Various workshops will be organized on the study and career opportunities in Europe, as well as a conference on the political engagement of young people.
What can the EU offer European students? And how are students seen by the EU? These will be the two central questions during "EU for Youth". The event will be held on 22 February at the ULB Campus in Brussels. In collaboration with a whole range of institutions and organizations, the Eyes On Europe student association has put together a program covering various issues.
From 1.00pm until 5.00pm, several workshops will be organized on the following topics:
– The possibilities offered by the EU for gaining professional experience abroad.
– Which traineeships and careers are proposed by the European institutions? (In collaboration with an EPSO Career Ambassador)
– The 'do's & don'ts' for people enrolled on an Erasmus program (In collaboration with the ULB Erasmus Office)
– The EU and the media, moderated by Rolf Falter, Director of the European Parliament's information office in Belgium and former political journalist. (In collaboration with Europe Direct Brussels)
From 6.30pm until 8.30pm, a debate conference will be organized under the title "Is the declining involvement of European youth in politics unavoidable?". Various speakers and members of the public will debate the question of how far youth has changed and turned away from politics. Are young people now just spectators, or do they want to actively participate and take matters into their own hands? And what solutions can we come up with to get young people more involved in politics?
The speaker's panel will consist of Emilie Van Haute (researcher at the 'Centre d'étude de la
Vie Politique' CEVIPOL), Jimmy Jamar (Head of the European Commission Representation in Belgium), Céline Guedes (Junior Political officer at the Foundation for European Progressive Studies FEPS) and Claude Rolin (Member of the European Parliament with the EPP).
The workshops will take place in the 'S' building of the ULB, and the debate conference will be held in Auditorium U (door B, 5th floor) of the ULB, Franklin Rooseveltlaan 50, 1050 Brussels. Participation is free and open to all.
For registrations and additional information: Event and Debate Conference
Organization: Eyes On Europe, in collaboration with Europe Direct Brussels, The European
Commission Representation in Belgium, The 'Institut d'Etudes Européennes' of the ULB, the EU Trainee Ambassadors Project, Stand Up for Europe, the European Youth Parliament Belgium, JEF Brussels & Belgium.