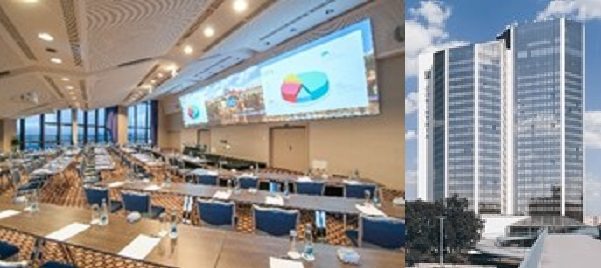 State-of-the-art video wall installed at Corinthia Hotel Prague
An ultra-large video wall has been installed in Corinthia Hotel Prague's premier conference space – the Bellevue Hall – making it the only installation of its kind in the city.
Conference bookers can create an unforgettable experience with the 14 x 2.8 meter (46 x 9 foot) screen. It has no frame or borders and has a white surface, offering infinite possibilities. It can either carry a still background image to a company logo, a mix of PowerPoint pictures against a still background image, a live video camera stream and company logo, or a live background and mood videos.
"It's the ultimate, versatile AV system for the most demanding clients," says Corinthia Hotel Prague General Manager Eric Pere.
The exclusive Bellevue Conference Hall is on the 24th floor of the hotel and offers breathtaking views of the city's skyline. The premier space can accommodate 300 theater style, 250 for a reception, 180 when configured as a classroom and 170 for a banquet.
Bellevue sits alongside 24 meeting rooms inside the hotel's dedicated and spacious Corinthia Conference and Events Center. Spread over an entire floor, the meetings facilities are divided into two separate sections, joined by a scenic foyer with panoramic views of the city from the hotel's location atop one of the city's several hills. In total, the Center can accommodate up to 1,000 delegates.
Corinthia Hotel Prague is located opposite Prague's Congress Center and has maintained its reputation as The Czech Republic's Leading Business Hotel for the last three consecutive years (in 2015, 2016 and 2017).