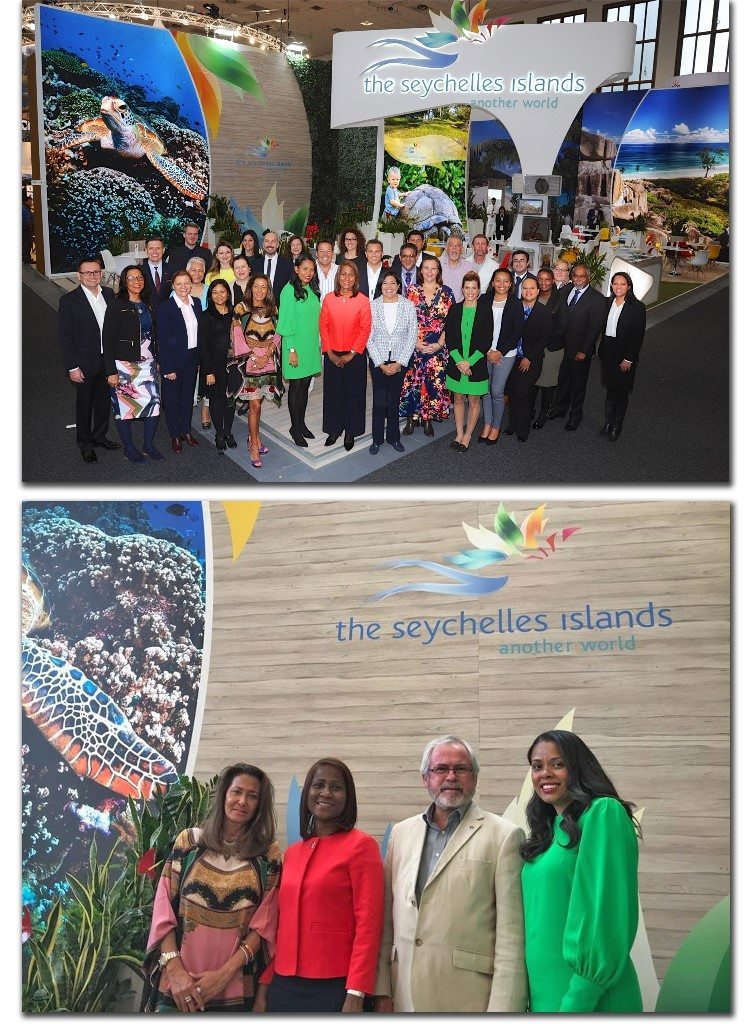 Seychelles records another fruitful participation at ITB 2018
With Germany already leading Seychelles' visitors arrival figures in 2018, the island destination has not failed to create more hype at this year's ITB Berlin. The Seychelles Tourism Board (STB) has once again been joined by an enthusiastic group of trade partners at ITB Berlin 2018, being held at Messe Berlin, Germany.
The 52nd edition of the annual travel trade show was officially opened on Wednesday March 7, and ended on Sunday March 11. As is customary, the first three days are reserved for trade visitors, while the fair is open to consumers on the weekend.
Since the opening day, the Seychelles team has been extremely busy conducting meetings with trade visitors, responding to their inquiries and forming new partnerships.
The Minister for Tourism, Civil Aviation, Ports and Marine, Maurice Loustau-Lalanne, the Seychelles Tourism Board's Chief Executive, Sherin Francis, Director for Europe Bernadette Willemin, Director for Germany, Austria & Switzerland, Edith Hunzinger and Marketing Executive Rolira Young were present at the event.
The local trade partners present at the 2018 ITB Berlin were: Alphonse Island Seychelles, Avani Seychelles Barbarons Resort & Spa, Berjaya Resorts Seychelles, Coco de Mer & Black Parrot suites, Cerf Island Resort, Creole Travel Services, Coral Strand Hotel/Savoy Resort & Spa, Denis Private Island/CaranaBeach & Indian Ocean Lodge, Eden Island, H Resort, Hilton Seychelles Hotels, Kempinski Seychelles Resort, Le Duc de Praslin/La Digue Island Lodge & Valmer Resort, Le Meridien Fishermen's Cove, Mason's Travel, MAIA Luxury Resort & Paradise sun Hotel, Pure Seychelles Hotels, Raffles Seychelles, VPM Yacht Charter and 7 Degrees South.
This year, the Seychelles Tourism Board went to the ITB Fair with a completely redesigned colourful and creative exhibition stand.
The STB Director for Germany, Austria and Switzerland, Edith Hunzinger said, "I am pleased to see that the trade have once again extended their support as the Seychelles delegation at the ITB fair keeps increasing each year. This inevitably shows the importance of the German, Austrian and Swiss markets for the tourism trade."
Germany, which enjoys direct flights from Frankfurt to Seychelles operated by German leisure airline, Condor, has sent 8,281 visitors to Seychelles so far in 2018, which represents a 16 percent increase over last year.
Another German-speaking country, Austria, also has direct air connections to Seychelles since October last year, with Austrian Airlines operating a non-stop weekly service from Vienna to Mahé.
Seychelles is set to get direct, non-stop air service with a third German-speaking country when Switzerland's leisure airline, Edelweiss Air, begins once-weekly flights to the island nation in September this year.
The STB Chief Executive, Sherin Francis said, "ITB being our first main trade fair of the year, gives us an opportunity to gauge how the year will unfold and have an idea of the market potential not only for the German territories but also the whole Continent. This will surely help us to align our strategy and marketing plan for the rest of the year."
For the local trade partners, the enthusiasm shown by the trade representatives visiting the Seychelles' stand shows how popular the destination is becoming.
"We have a beautiful stand this year, absolutely amazing space, smiles, colours and as somebody who has attended ITB for the past 24 years, I feel exceptionally proud to sit on this stand and do business from here," Ash Behari from Coco de Mer Hotel on Praslin said.
ITB Berlin is a must-attend event for tourism sector professionals, which attracts over 7000 exhibitors and some 170, 000 visitors from 180 countries.
It is the perfect platform to showcase tourism destinations, services and products from across the globe and for trade experts and professionals to conduct meetings and form new partnerships.
Aside from the travel trade, both the Minister Loustau-Lalanne and Mrs Francis have also been conducting meetings with representatives of tourism related services, as well as interviews with various media.
Mrs Francis also represented Minister Loustau-Lalanne at the 8th UNWTO Silk Road Ministers Meeting, held on the sidelines of the ITB fair .The meeting which focussed on the '2025 Silk Road Tourism Agenda' was attended by the organisation's newly-appointed Secretary-General, Mr. Zurab Pololikashvil