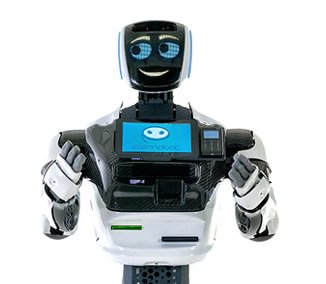 Robots and humans to work together at HITEC Dubai 2018
For the first time, a robot will initiate the proceedings at HITEC Dubai 2018, the Middle East's largest hospitality technology exhibition and conference taking place at the Madinat Jumeirah Dubai on 5th and 6th December 2018. Taking centre-stage at the show will be a Promobot, an intelligent humanoid robot.
Frank Wolfe CAE, CEO of HFTP, said, "Hospitality robots are clearly at a tipping point. They're now cost-effective to build, are attaining cultural acceptance, and use sophisticated technology to safely live and work among us. We are delighted to have a robot leading the conference at HITEC Dubai."
Mr. Amro Kamel, the group owner stated, "We took the lead in understanding the need of introducing the essence of Robotic Technology in the region. Today we are the largest distributor of PROMOBOT, TECHMETICS, LEA and are delighted to showcase our latest products at the HITEC Dubai."
A report released by McKinsey & Company recently suggested that by 2030, as many as 800 million workers globally could be replaced by robots. Even if automation adoption is slower than anticipated, as many as 400 million people could still be affected. However, according to World Economic Forum (WEF), robots in workplace could create double the jobs they destroy. It said about 133 million jobs could be created worldwide with the help of rapid technological advances in the workplace over the next decade, compared with 75 million that could be displaced.
HITEC Dubai's Advisory Council Chairperson Laurent A. Voivenel, Senior Vice President, Operations and Development for the Middle East, Africa and India for Swiss-Belhotel International, said, "Over the last decade technology has led to drastic transformation in the hospitality sector globally as well as regionally which has boosted competitiveness and efficiency in our industry while creating new opportunities. There's no denying that robots are becoming common helpers in hospitality, showing up in hotels and restaurants around the world – from Japan's all-robot hotel to other parts of the globe. It a growing trend and extremely useful in certain areas and we are excited to see the new developments in the field at HITEC."
HITEC Dubai will be inaugurated by Dubai Tourism and will give Middle East buyers, currently worth over USD 75 billion, access to the world's leading technology solution providers and experts in the hospitality sector. The two-day trade show is co-produced by Hospitality Financial and Technology Professionals (HFTP®) and Naseba.