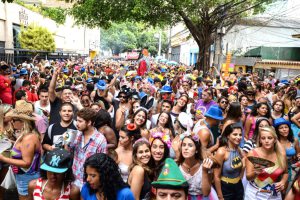 Rio de Janeiro: Official Schedule for 2018 Carnival Blocos
473 block (Blocos) of groups aim to lead residents and tourists into euphoria at the upcoming famous Rio de Janeiro Carnival
The official Tourism Company of the Municipality of Rio de Janeiro (Riotur) released the official list of the famous blocos earlier this week, confirming the events that will parade through the city during the 2018 Carnival period.
Most blocos will parade through Zona Sul (South Zone), where 128 are held, and the rest will be distributed in other regions of the city.
The number is slightly higher than the number of groups that had authorization in 2017, when 451 blocos were approved and held 578 parades.
The announcement this year came two weekends after the start of unofficial bloco testing events, which have already spread throughout the city. One of the reasons is due to some big changes in the organization and funding of Carnival this year.
The new program of the 'Arena Carnaval Rio', or the Blocódromo, a controversial initiative of the city hall that intends to gather revelers in the Olympic Park, in Barra da Tijuca, includes seven major blocos, among them 'Cordão da Bola Preta' and 'Bangalafumenga', and five samba schools.
Rane Souza, director at RS Language Services, is from Minas Gerais but has lived in Rio for years, and is not sure that the changes are good. "It will certainly change the feeling on the streets because most blocos are deeply rooted in the neighborhoods they were first set up," she explains.
When asked about her bloco plans she shares, "I'll be traveling during Carnival. I'm spending time with my folks in Minas Gerais. But, if I were in Rio I would go to: Thriller Elétrico, in Vila Isabel; Põe na quentinha, in Centro; Mulheres Rodadas, in Catete; Agytoê, Viemos do Egito, and Boitatá, in Centro."
While officials promise there are attractions spread out between Carnival Saturday (February 10th) and Ash Wednesday (February 14th), anyone who wants to go to the Blocódromo will have to wait a little longer to know exactly what the attractions will be.
This is because the published listing does not give the name of the schools that will be presenting (one each day, from 11AM to 12 Noon) and also reserves a time slot for a "surprise attraction" (from 12 Noon to 2PM).
See the full list of 2018 Carnival blocos as a PDF file here.