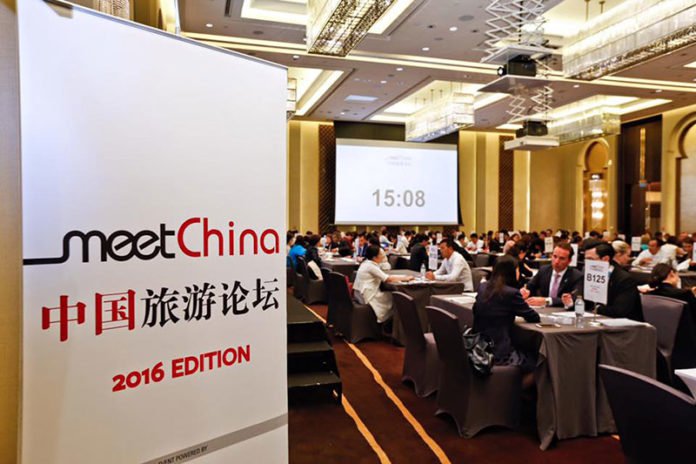 Record numbers set to attend MeetChina forum
At the upcoming two-day forum on Yas Island , Abu Dhabi. 85 top tier travel buyers from China and 75 suppliers from across the MENA region are expected.
With China now the leading source market for visitors to Abu Dhabi and with more than one million Chinese tourists visiting the UAE in 2017, interest in this year's MeetChina forum has grown significantly as the two-day event to be held on September 3 & 4 on Yas Island – Abu Dhabi gears up to host even greater numbers.
With Yas Island – Abu Dhabi as destination partner, MeetChina is organised by NPI Media and Mini Spider (Beijing), and supported by the Department of Culture & Tourism – Abu Dhabi and Sharjah Commerce and Tourism Development Authority. The seventh edition of the influential forum will welcome 75 suppliers from the MENA region and 85 top tier travel buyers from across mainland China.
These buyers represent the outbound travel market for leisure and FIT travel as well as official business, government and MICE tourism. Online travel agencies and wholesalers from Beijing, Shanghai and Guangzhou will be in attendance, as will representatives from cities such as Zhengzhou, Chongqing, Chengdu and Urumqi. High-value agents from Taiwan will also attend the forum.
Among the confirmed buyers for the forum are Ctrip International, Tong Cheng International, Beijing Yougou World International (Uniway), One Tour, Top Tour and Chengdu More Trip International.
Taking place at Yas Conference Centre on Yas Island, Abu Dhabi from 3-4 September 2018, the forum is entirely focused on the number one outbound tourism market in the world – China.
Last year more than 1.13 million Chinese visitors travelled to the UAE and the early indications are that this figure will be eclipsed in 2018. First quarter results show that there was a 12 percent growth rate from the previous year in Dubai as 258,000 visitors travelled to the emirate, while Abu Dhabi registered a 31 percent increase as 127,000 tourists visited the capital.
The itinerary for the event has been specifically designed to ensure the very best environment for doing business. Over the course of the forum there will be specific times allocated for B2B meetings between Chinese buyers and regional tourism suppliers, networking lunches and focused seminar sessions with experts representing both the UAE and China.
Delegates will also have the opportunity to visit some of the leading attractions in the country through a hosted lunch at Ferrari World Abu Dhabi and a gala dinner at Warner Bros. World, as well as VIP tours of Louvre Abu Dhabi, Ski Dubai, and Mall of Emirates.
Event attendees will also attend a seminar session presented by Ms. Long Fei, Director of Business Cooperation, China Association of Travel Services. At MeetChina 2018, Ms. Fei is presenting an introduction to the China Association of Travel Services, a national and industrial public organization providing services for travel agencies and social organizations related to travel services. The presentation will include a detailed analysis of China's Outbound Tourism Market.