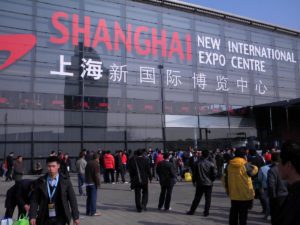 Rail and Metro 2018 : Shanghai exhibition takes initiative
The 2018 Shanghai International Rail Transit Exhibition (Rail+Metro China 2018), produced by China International Engineering Consulting Corporation, Shanghai Shentong Metro Group and Shanghai Intex Exhibition Company will be held at the Shanghai New International Expo Center on November 7-9, 2018.
Under the strong support and guidance of the Department of Basic Industries of National Development and Reform Commission, the China Academy of Transportation Sciences, the CIPA Railway Industry International Cooperation Committee, Shanghai Municipal Transportation Commission and China Association of Metros. Rail+Metro China has become one of the largest platform for trade procurement and brand augmentation in rail transit industry in China and the Asia-Pacific region.
China's transportation network is moving into a new phase. It's now championing the concept of "Extensive Coverage". Over the next five years, China is to extend its network to 30,000 kilometers and link up about 80% of its large cities. China will also form an inter-city rail network across the Beijing-Tianjin-Hebei region, the Yangtze River Delta, the Pearl River Delta, the Mid-Yangtze Delta, Central China, the Chengdu-Chongqing region and the Shandong Peninsula. It's not all about rail development. Over the next five years, more than half of the new or renovated highways will be constructed in undeveloped and remote areas. The project will include more than 40 percent of China's counties. About 67,000 kilometers of national roads, more than half a million kilometers of rural roads and 15,000 kilometers of rebuilt bridges will guarantee every village is networked. It is hoped that high-speed rail networks, inter-city subway networks and airports will be integrated as an open, multi-level and comprehensive passenger terminal. The day of "free transfer with one ticket" is near.
Rail+Metro China 2017 has attracted more than 200 companies from 16 countries and regions worldwide, spanning 20,000sqm. 18,469 visitors have attended to the show. Domestic buyer delegations were from 40 cities and regions, while overseas visitors are from 33 countries and regions; they are public transportation units, urban rail transit proprietors, design and planning institutes, research and consulting organizations, colleges and universities.
Rail+Metro China 2018 will continue to showcase the latest products and technologies of 'rail vehicles and components', 'signal, communication and IT technology', 'traction power supply and drive devices', 'maintenance and repair equipment', 'planning and consulting services' and 'infrastructure and tunnel engineering facilities'.
Academic conferences and workshops will take place in conjunction, themes are covering 'rail transit investment and financing mode', 'big-data and informationization', 'operation and management', 'vibration and noise control', and 'diversified rail transit application'.
Rail+Metro China is dedicated to promptly convey the most practical industry information and build an integrated trade platform. We believe the 2018's show will hit a new high from every aspect and bring together all the industry's leading figures.