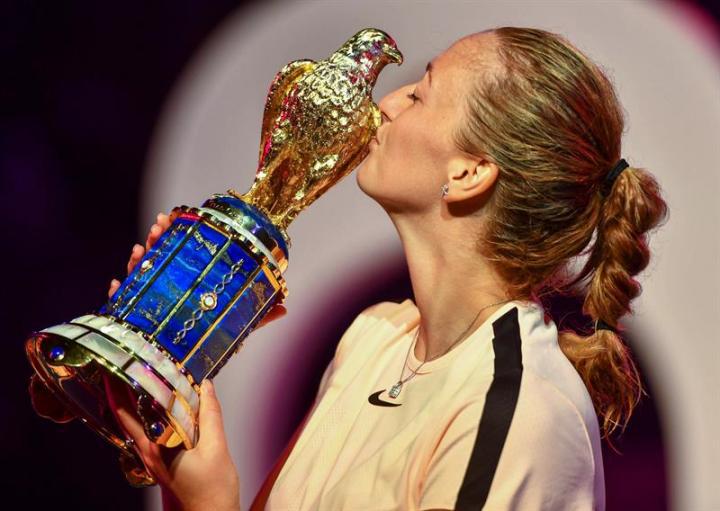 Qatar Airways and Qatar Duty Free congratulate Petra Kvitova on winning Total Open Women's 2018 Tournament
Qatar Airways and Qatar Duty Free (QDF), the official airline and retail sponsor of the Qatar Total Open Women's Tennis Tournament 2018, congratulate Petra Kvitova on her victory in the tournament's final match last night.
The thrilling competition was held at state-of-the-art Khalifa International Tennis and Squash Complex in Doha from 12-18 February 2018, and proved to be a great success among international and local fans alike. The new champion earned her title after defeating Garbine Muguruza with a 3-6, 6-3, 6-4 victory in the final match of the competition.
Qatar Airways Senior Vice President Marketing and Corporate Communications, Ms. Salam Al Shawa, said: "Qatar Airways is thrilled to congratulate Petra Kvitova, winner of this year's annual Qatar Total Open, on her incredible victory. Qatar Airways prides itself on being a major sponsor of many sporting events around the world and of using sport as a means of bringing people together. We look forward to many more thrilling events coming up this year, including the 2018 FIFA World Cup Russia™, with Qatar Airways leading the way as the Official Airline Partner of FIFA."
Head of Qatar Duty Free, Mr. Thabet Musleh, said: "Qatar Duty Free is pleased to congratulate Petra Kvitova on her incredible win at this year's Qatar Total Open 2018. Thanks to all the spectators who visited our Qatar Duty Free booth and participated in our special competition. We would also like to congratulate the lucky winners who were awarded special prizes signed by the tournament's top players."
Qatar Total Open Women's Tennis Tournament Director, Mr. Saad Al-Mohannadi, said: "Congratulations to Petra Kvitova for winning the Qatar Total Open 2018. The championship was a magnificent success and a thrilling competition for both international and local fans. We would like to thank all the participating players and passionate spectators for making this year's Total Open a successful and unforgettable week."
Qatar Airways, the Official Airline partner of FIFA, is a leading supporter of major global sporting events, including the 2018 FIFA World Cup Russia™ and the FIFA Club World Cup™.
The award-winning airline has received a number of accolades recently, including 'Airline of the Year' by the prestigious 2017 Skytrax World Airline Awards, which was held at the Paris Air Show. This is the fourth time that Qatar Airways has been given this global recognition. In addition to being voted 'World's Best Airline' by travellers from around the world, Qatar's national carrier also won a raft of other major awards at the ceremony, including 'Best Airline in the Middle East,' 'World's Best Business Class' and 'World's Best First Class Airline Lounge.'
Qatar Airways operates a modern fleet of more than 200 aircraft to a network of more than 150 key business and leisure destinations across Europe, the Middle East, Africa, Asia Pacific, North America and South America. The airline is launching a host of exciting new destinations planned for 2018, including Thessaloniki, Greece and Cardiff, U.K., to name just a few.