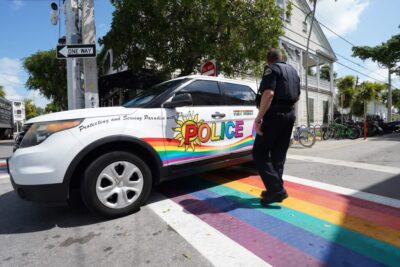 Pride-wrapped police vehicle debuts at Key West Pride festivities
The Key West Police Department is to debut its Pride-wrapped police vehicle during the island city's June 1-5 Pride celebrations, with the colorful car leading the highlight Pride Parade and appearing at multiple events during the festivities.
The white police car features rainbow graphics, the words "Key West Police" in colors signifying the iconic LGBTQ rainbow flag and the motto "Protecting and Serving Paradise with Pride."
According to event organizers with the  ## Key West Business Guild ##, the Pride-themed police car is to be on display at the festival's kick-off gala slated for 5-8 p.m. Wednesday, June 1, and at the street fair set for 10 a.m. to 5 p.m. Saturday, June 4.
Police Chief Sean Brandenburg is to drive the newly decorated vehicle at the head of the Pride Parade, beginning at 5 p.m. Sunday, June 5, and proceeding along Key West's famed Duval Street.
"The city's motto is 'One Human Family,' and this is a way to further engage all aspects of our community," said Brandenburg. "We appreciate the Key West Business Guild for sponsoring this wrap."
"One Human Family" was adopted as the city's official philosophy in 2000, proclaiming equality and acceptance for all. Key West is internationally recognized for its longstanding heritage of diversity and reputation as a leading LGBTQ vacation destination.
The vehicle's debut is another example of the city embracing attributes of diversity and equality, also exemplified by the city's 2015 installation of permanent rainbow crosswalks at the intersection of Duval and Petronia streets in the heart of the LGBTQ entertainment district. An island landmark and popular photo stop, the crosswalks were redesigned and replaced in 2020 and refreshed in mid-May 2022.
Key West's Pride celebrations are to continue through June 5.